16th of June Patriot's Gala and Commemoration of the 243rd Anniversary of the Battle of Ramsour's Mill
June 16, 2023 - June 17, 2023 All day
201 Jeb Seagle Dr, Lincolnton, NC 28092, USA

16th of June Patriot's Gala
and
The 243rd Anniversary
of the
Battle of Ramsour's Mill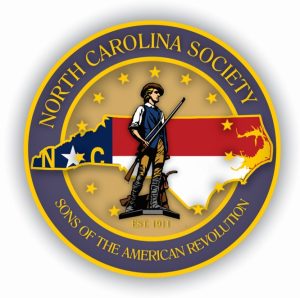 Catawba Valley Chapter, SAR and Jacob Forney Chapter, DAR would like to invite you to the 16th of June Patriot's Gala and Commemoration of the 243rd Anniversary of the Battle of Ramsour's Mill to be held on Friday, June 16th and Saturday, 17th in Lincolnton North Carolina.
Gala:  Both Chapters will be hosting the 16th of June Patriot's Gala on Friday evening, June 16th, beginning at 6:30 pm at the Lincoln Cultural Center, 403 E Main St Lincolnton, NC at 6:30 pm. The Gala will cost $35.00 per person.  The Keynote Speaker will be Historian Daniel Barefoot.  Entertainment will be provided by Michael Helms.  For more information, please see the flyer below.  Get your tickets at LCC.BOOKTIX.COM.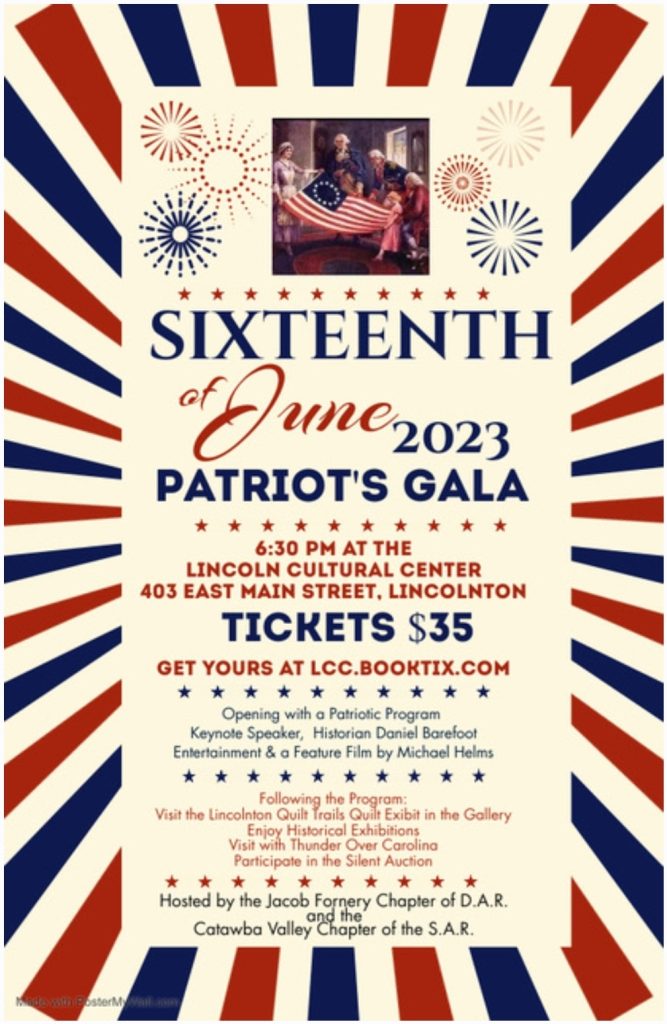 Commemoration:  The Commemoration will be held Saturday, June 17th beginning at 10:00 am.  The ceremony will occur at the mass grave located at Battleground Elementary School, 201 Jeb Seagle Drive, Lincolnton, North Carolina, 28092. There will be living history camp with various demonstrations across the street afterward coordinated by Locke's Militia (Recreated). A Bar-B-Cue lunch will also be available after the ceremony.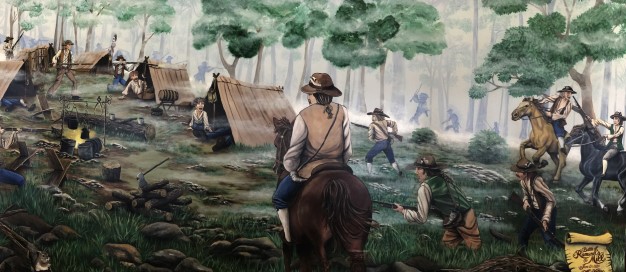 Ghost Walk:  Thunder Over Carolina will provide a ghost walk through the Battlefield on Friday and Saturday Evening.
Lodging:  Rooms are available for $124.00 plus tax at Hampton Inn, 129 Roper Road, Lincolnton, NC 28092, cutoff date is May 17th. Please call 704 736-2000, the group name is Sons of the American Revolution, the group code is SAR.
Please register here if you plan to attend.  Also, make sure to indicate if you will be participating in the Wreath laying Ceremony and Honor Guard.
RSVP HERE