Blue Ridge Chapter SAR Color Guard Honors President George Washington At Mount Vernon
First North Carolina Chapter of the Sons of the American Revolution. Chartered 21 April 1928 in Asheville, North Carolina, and later became the Blue Ridge Chapter.
Of the 20 available honorary slots, Blue Ridge Chapter President Craig Issacson of Hendersonville, NC, and Blue Ridge Chapter Color Guard Commander Garry Linton of Fletcher, NC were chosen to serve sentry duty at the tomb of President George Washington on September 17th. Besides North Carolina, representatives from Georgia, West Virginia, Connecticut, New York, and Virginia were also honored to serve sentry duty at the tomb of President George Washington.
The sentry duty consists of 15-minute segments at the gates of the late President and Mrs. Martha Wahsington's tomb. The guard detail stands at attention in Continental uniforms or militia attire representative of the era of the American Revolution. During their time at their post, guards are not allowed to speak to the public.
The vigil, held at Mount Vernon, Virginia, is an annual event sponsored by the Mount Vernon Ladies Association with a focus on the Patriot leader and first President of the United States.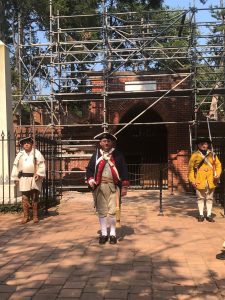 Craig Issacson, Ken Collins, and Garry Linton
All Color Guard members extend their profound thanks and appreciation to have been a part of such an impressive ceremony.
It is easy to see that the Blue Ridge Chapter is an active, energetic, busy chapter that is always looking for new members to help us reach our challenging goals for the recognition of the sacrifices our Patriots made for us to enjoy all the freedoms we have today.