Blue Ridge Chapter Color Guard at Charlotte Naturalization Ceremony
First North Carolina Chapter of the Sons of the American Revolution. Chartered 21 April 1928 in Asheville, North Carolina, and later became the Blue Ridge Chapter.
Members of the Blue Ridge and Mecklenburg Chapter Color Guards were honored to present our nation's "Colors" at the recent Naturalization Ceremony held in Charlotte, North Carolina, on August 19th. The event, held in the Court of Circuit Judge Albert Diaz, was the largest Citizen Naturalization class in North Carolina history as 68 new citizens swore their oaths to the United States of America.
Prior to the ceremony's beginning, the Honorable Judge Diaz gave an overview of the Sons of the American Revolution and the principles the organization stands for. As the session opened, the Color Guard paraded the Colors before those assembled and stood at attention during the Star Spangled Banner. Following the administration of the Oath of Citizenship, the Guard again presented the Colors during the Pledge of Allegiance and the singing of God Bless America.
At the closing of the Court, the Color Guard paraded the Colors to the center of the courtroom to allow our newest citizens to pose for pictures. Nearly all 68 new citizens (and family members), as well as Court Officers, made their way to the center of the chambers for a unique opportunity to be photographed with the descendants of  America's Patriot heroes.
Pictured below is the Color Guard contingent consisting of Lance Dickinson, Craig Issacson, and Garry Linton from the Blue Ridge Chapter NCSSAR and Steve McKee and Tom Pfleger from the Mecklenburg Chapter NCSSAR.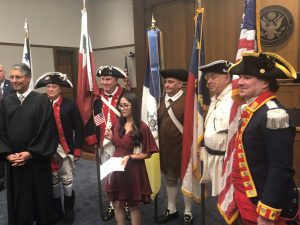 All the Color Guard members extend their profound thanks and appreciation to have been a part of such an impressive ceremony.
It is easy to see why the Blue Ridge Chapter is an active, energetic, busy chapter that is always looking for new members to help us reach our challenging goals for the recognition of the sacrifices our Patriots made for us to enjoy the freedoms we have today.