Outstanding Citizenship Award Presented By Blue Ridge Chapter
First North Carolina Chapter of the Sons of the American Revolution. Chartered 21 April 1928 in Asheville, North Carolina, and later became the Blue Ridge Chapter.
"Thank you for your service" is a phrase given frequently to America's veterans of military service. It can be followed with a smile, hug or pat-on-the-back. A restauranter in Marshall, North Carolina, goes a big step further to show her admiration and gratefulness of America's finest.
The Blue Ridge Chapter North Carolina Society Sons of the American Revolution honored Bonnie Whitner for her outstanding devotion to American veterans with the SAR Outstanding Citizenship Award on June 13, 2022. The well-deserved recognition took place at Bonnie & Clyde's Restaurant in Marshall, NC where owner Bonnie Whitner welcomes dozens of Veterans to a once-a-month free dinner as her special way of saying "Thank you for your service."
Over the past 5 years, the restaurant has closed its doors to the public on the 2nd Monday of each month. Bonnie, and her staff, and appreciative nieces serve up complimentary dinner and dessert for all local men and women who have served in the armed forces. With a copy of the American Constitution laminated to the front door and countless artifacts drawing attention to patriotism and American history in the dining areas, it is gratifying to see the smiling faces of dozens of retired and active military heroes and their families as they arrive to enjoy the home cooking and fellowship offered by their host.
Making the award presentation to Ms. Whitner were Blue Ridge Chapter President Craig Issacson and Chapter Vice President Steve Greene.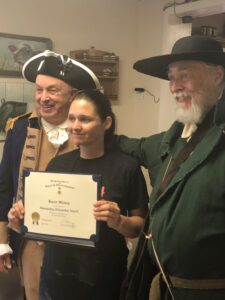 It is easy to see that the Blue Ridge Chapter is an active, energetic, busy chapter that is always looking for new members to help us reach our challenging goals for the recognition of the sacrifices our Patriots made for us to enjoy the freedoms we have today.