Blue Ridge Chapter Holds Flag Retirement Ceremony to Honor Old Glory
First North Carolina Chapter of the Sons of the American Revolution. Chartered 21 April 1928 in Asheville, North Carolina, and later became the Blue Ridge Chapter.
The Blue Ridge Chapter of the Sons of the American Revolution observed Flag Day 2022 by conducting a solemn flag retirement ceremony at its Chapter meeting on June 11th. The chapter members paid homage to 53 flags that had been flown until they were unpresentable to display in public.
Taking part in the ceremony were active members of the Blue Ridge SAR Chapter, members of the Abraham Kuykendahl and Rebecca Sevier Wadell DAR Chapters and members of the general public who were in attendance.
"Flying the American Flag on Flag Day is not the only aspect of this National Day of Recognition for our country's banner," stated Blue Ridge Chapter President Craig Isaacson. "Showing the proper respect and honorable disposal of tattered and worn flags is also critical."
Following the ceremony, the old and retired flags were to be taken to an American Legion Chapter disposal site where they were burned according to Federal flag protocol.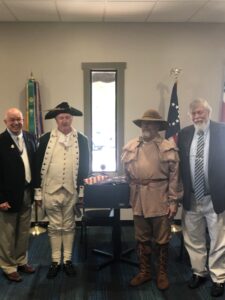 It is easy to see that the Blue Ridge Chapter is an active, energetic, busy chapter that is always looking for new members to help us reach our challenging goals for the recognition of the sacrifices our Patriots made for us to enjoy all the freedoms we have today.