North Carolina Rumbaugh Oration Winner Named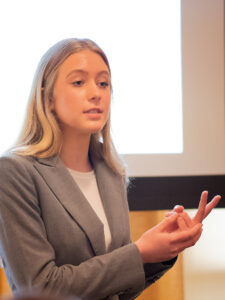 NC SAR is pleased to announce that the winner of its 2022 Joseph S. Rumbaugh Historical Oration Contest is Aliza Jankowsky, a Junior at Green Valley High School in Cary.  To qualify for the state competition, her oration titled, "The Poet of the Past, The Voice of the Future" had previously won the Raleigh Chapter contest at Governors Club in Chapel Hill, on March 19.  She will be invited to present her oration again at the North Carolina Society Annual Meeting in Greensboro, on April 24, and go on to compete in the National contest for up to $6,000 in cash/scholarship.  Ms. Jankowsky received a $250 award for winning the chapter competition and will receive a medal and $750 for winning the state competition.
Participants are students attending 9th through 12th grades in public, parochial or private schools, or home-school students studying at the same grade levels, and must write an original oration of not less than five minutes, or more than six minutes. The oration must be delivered from memory and without the use of notes or any kind of props. The subject of the oration deals with an event, a personality, or a document pertaining to the Revolutionary War with an emphasis on our nation's 250th anniversary celebration. It is essential that each oration show the relationship it bears to America today.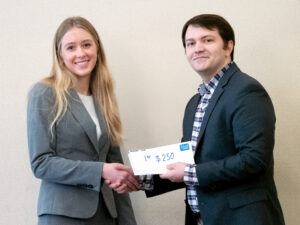 Evidence of historical research and creative presentation are also important. The oration is judged based upon its composition, delivery, significance, historical accuracy and relevance to our 250thanniversary.
Chapter winners submitted videos of their orations, taking into account feedback from their in-person chapter competitions.  State judges Sam Powell, Joe Sutton, and Steve Van Pelt then carefully reviewed the videos before reaching their decision, using the score sheet from the National competition as a guide.  Ms. Jankowsky will now record another video, which will be submitted for the National competition.
A pdf Press Release is available at http://ncssar.org/wp-content/uploads/2022/04/2022-NC-SAR-Rumbaugh-Winner-V6.pdf