General Francis Nash and Raleigh Chapters hold Rumbaugh Oration Competition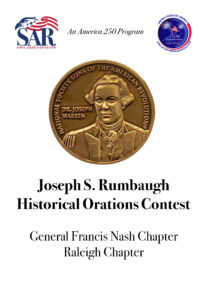 The General Francis Nash and Raleigh Chapters jointly held their 2022 Joseph S. Rumbaugh Historical Orations Contest on Saturday, March 19, at the Governors Club in Chapel Hill.  Competitors from each chapter were judged by separate three-person panels.  Winners for General Francis Nash are, First Place, Lily Kate Witcher, and Second Place, Giovanni Cacciato, both from Northwoods High School.  Winners for Raleigh are, First Place, Aliza Jankowsky, from Green Hope High School, and Second Place, Jake Hessler, who is home-schooled.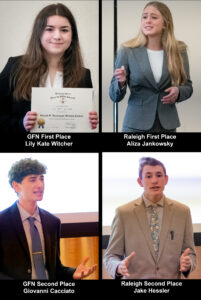 Presiding was General Francis Nash and State Rumbaugh Chairman Lowell Hoffman.  After the competition, competitors, parents, and other guests were invited to the following General Francis Nash Chapter Lunch Meeting, where the results were announced, and the First Place winners repeated their orations.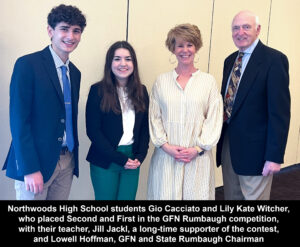 The First Place winners will go on to compete in the State Rumbaugh Contest, for the opportunity to go on to the National Competition.