Sandhills SAR Website Has Gone Live
July 25, 2021
Fellow Compatriots,
I am proud to announce that The Sandhills SAR Chapter has gone LIVE with our New Website. The website address is:  www.sandhillssar.org.
After months of hard work and web design by Sandhill's Chapter Webmaster, Chris Smith, the Sandhills SAR Website has gone live. We thank Chris for all his hard work and attractive design to put our chapter live on the internet and Facebook.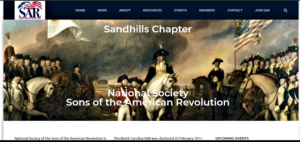 Please take some time to go to our website to browse and navigate to our available SAR information. As we go forward, we will be adding more interesting and educational information for our members and the public.
New SAR candidates, interested in inquiring information about the SAR membership process can contact the Sandhills Officers and Registrar for further assistance.
Please create a bookmark on your browser so that you can return to our website for SAR and Sandhills Chapter information. We will be posting more information in the "members" folder in the future. As Sandhills SAR Compatriots, you will soon be receiving an email with your "Username and Password" to access this information.
If you have any questions, requests, or suggestions for improving our website, please send an email to our Sandhills Secretary, Mike Fusselbaugh  () or President, Bruce Fensley ().
This is a very exciting step forward for the future for our Sandhills SAR Chapter.
We look forward to all your feedback and improvements.
Fraternally Yours, Bruce Fensley – Sandhills SAR Chapter – President