Heritage Flag Company Receives SAR Award
On April 29th, Sandhills SAR Chapter Compatriots Vic McMurry and  Bruce Fensley presented a Sons of the American Revolution Flag Recognition Certificate to Heath Trigg at the Heritage Flag Company in Southern Pines.
This SAR Flag Award is presented to individuals and businesses in recognition of their exemplary Patriotism in the display of the Flag of the United States of America.
Heath and his company have been honoring the American Flag through his creative, artistic, and patriotic products in Southern Pines since 2014.
Congratulations and Thank you to Heath and his entire team at Heritage Flag.
Anyone interested in receiving more information about joining The Sons of the American Revolution, please contact the Sandhills Chapter Registrar, Compatriot John Laflin, at (laflin47 at gmail.com).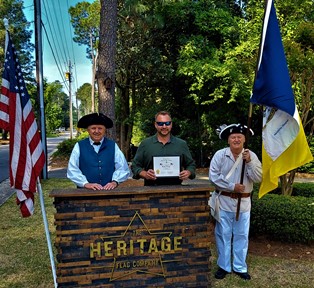 (L-R)Sandhills Chapter Compatriot Bruce Fensley, Heath Trigg, Compatriot Victor McMurry