NC SAR Color Guard Participates in Charters of Freedom Dedication and Video of Halifax Resolves Celebration Posting and Retrieval of the Colors
The Combined NC SAR Color Guard, under the command of SMSgt. George K. Strunk, USAF (ret.),  presented and retrieved the Colors for the Charters of Freedom time capsule dedication and following that event proceeded to the Colonial Courthouse site to video the presentation and retrieval of the Colors for the 245th Anniversary of the Halifax Resolves.  The Halifax Resolves event is scheduled for April 12th.  The Halifax Resolves chapter  members participating in the color guard were Compatriots Ken Wilson and Steve Avent; representing the Alamance Battleground Chapter, Dr. Samuel C. Powell; representing the General George Washington Chapter, George K. Strunk and Ron Bonham; representing the Raleigh Chapter, Bob Sigmon and Tom Davis.
Halifax Resolves Chapter President Geoff Pittard served as the videographer for both events.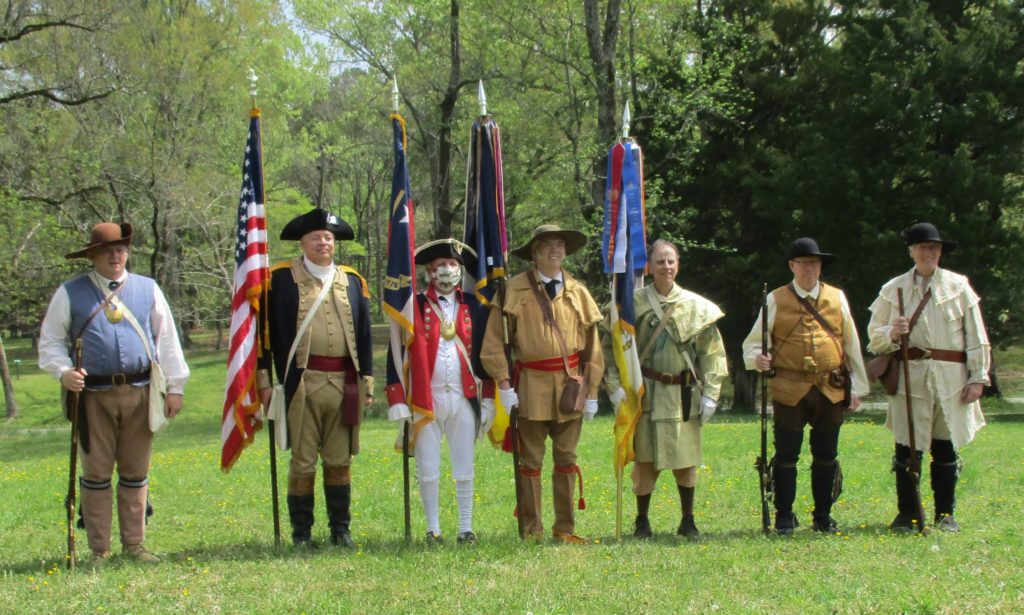 (L-R) Compatriots Ken Wilson, Dr. Samuel C. Powell, George Strunk, Ron Bonham, Steve Avent, Bob Sigmon and Tom Davis