Gen. Henry William Harrington DAR Chapter Meeting
On April 7th, Sandhills SAR Compatriots; John Laflin, Rod Herbig, Bill Loeser, and Bruce Fensley attended the General Henry William Harrington DAR Meeting at the First Methodist Church in Rockingham, NC. The Sandhills Chapter Compatriots presented; the history of the Sons of the American Revolution, the SAR Application Referral process and the AAR Finder Award System, the SAR-DAR Liaison Program, and a story about one of our Local Moore County Revolutionary War Patriot – Robert Davis's role in the "Carrubus Black Boys" attack on a British supply wagon train in 1771.
Melissa Wall, DAR Daughter in the Gen. Henry William DAR Chapter, has submitted a referral application for her son, Logan Wall, to the Sandhills SAR Chapter.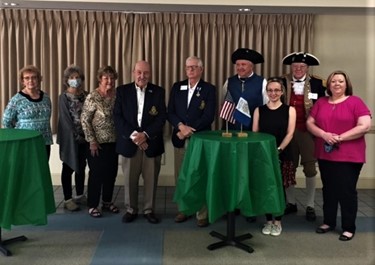 Gen. Henry William Harrington DAR Daughters and Sandhills Chapter SAR Compatriots.