Sandhills Chapter SAR Recognizes Veterans Volunteers
On March 23, 2021, The Sandhills Chapter of the Sons of the American Revolution awarded the SAR Service to Veterans Medal and Award Certificates to Tony Le nnon, Southern Pines (not pictured), Sandhills Chapter SAR Compatriots William Carl and Charles Spelman, both of Seven Lakes. All three of these volunteers worked countless hours over an eight year period and are all veterans themselves.
These three community and veteran volunteers are associated with the Military Missions In Action (MMIA) organization, which is a 501(c) (3) Non Profit, that was established in Southern Pines in March of 2013 to serve Veterans, Veterans with disabilities, members of th e Armed Forces and their families. At that time, Mr. Lennon was named the Program Director of the Southern Pines MMIA Program and continued into 2021. The majority of the work performed by the MMIA is done by a team of volunteers.
During the 8 years of volunteer service, these MMIA volunteers completed over 50 home modification projects. These included over 25 wheelchair ramps at veterans homes, more than 6 in home
modifications for wheelchair access, handicap accessible bathrooms, and various home repairs including replacing doors/windows and roof repairs. This service was provided cost free to the veterans in need.
A few years ago, a home in Pinebluff was donated to the MMIA SP organization with the stipulation that the repaired home be provided to a de serving veteran or military family. This home was a three bedroom, one bath home that needed major repairs and updating. This major project turned out to be a multi year effort that received generous support from; the Southern Pines Elks Lodge #1692, The Sandhills Chapter of the Military Officer's Association, and the John Boyd VFW Post 7318. The completed home was granted to a deserving veteran and the family as a " Virtually New home".
"Volunteering is at the very core of being human. No one has made it through life without someone else's help." Heather French Henry
Anyone interested in obtaining more information about the Sandhills Chapter of the Sons of the American Revolution, please contact John Laflin at (885) 405 520 1 or .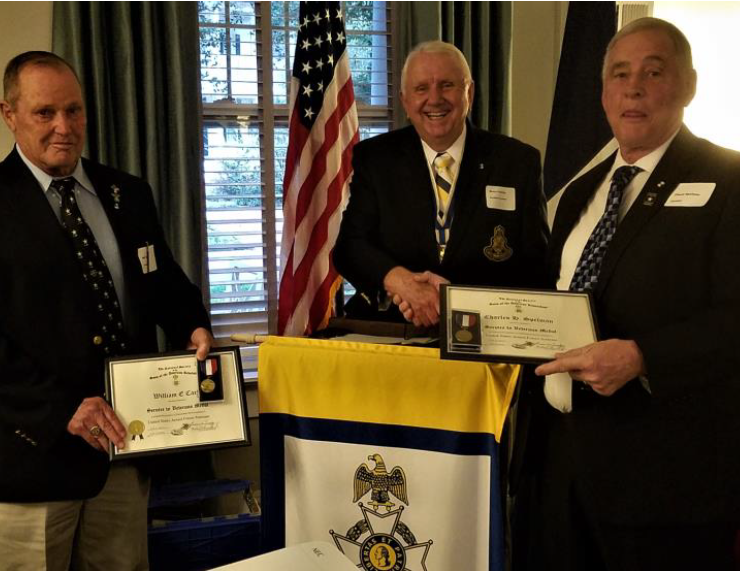 Left to Right Sandhills Chapter Compatriots William Carl, Bruce Fensley & Charles Spelman