NC SAR Recognizes Halifax Resolves Chapter Chaplain
The North Carolina Sons of the American Revolution (NC SAR) has presented Reverend Duncan H. Jones with the Society's Patriot Medal.  The Patriot Medal is the highest award presented to a Compatriot by a State Society and recognizes long, faithful, outstanding, and distinguished service at the state and/or chapter level. It is awarded only by a State Society and may be presented only to an individual.  Service at the national level is not considered in making the award. It is desirable that it be presented at the annual meeting of the State Society, but due to the current pandemic that was not possible.
Reverend Jones joined the NC SAR in 1996 as an at large member before joining the newly formed Halifax Resolves Chapter in 2006 and has been the Chapter Chaplain since that time.  His dedication and service to the chapter and state society is illustrated, but not limited to the following: continuous service as Chapter Chaplain for over 15 years; assisted the National Chaplain-General/NC SAR Chaplain at the April 12th Halifax Resolves ceremonies; presided over numerous April 12th Halifax Resolves ceremonies; presided over an Annual NC SAR Meeting; fulfilled chaplain duties at multiple Patriot and Compatriot grave markings as well as flag retirements; serves as a member of the Chapter Board of Managers since 2006.  He has represented the chapter at numerous Memorial Day, Veterans Day and Wreaths Across America ceremonies.  Reverend Jones has provided wise council and spiritual guidance to the members of the chapter and is greatly appreciated by all.
The award was presented by NC SAR Past President Ken Wilson and NC SAR Immediate Past President James Becker, both of whom have received the Patriot Medal in the past and are members of the Patriot Medal Selection Committee.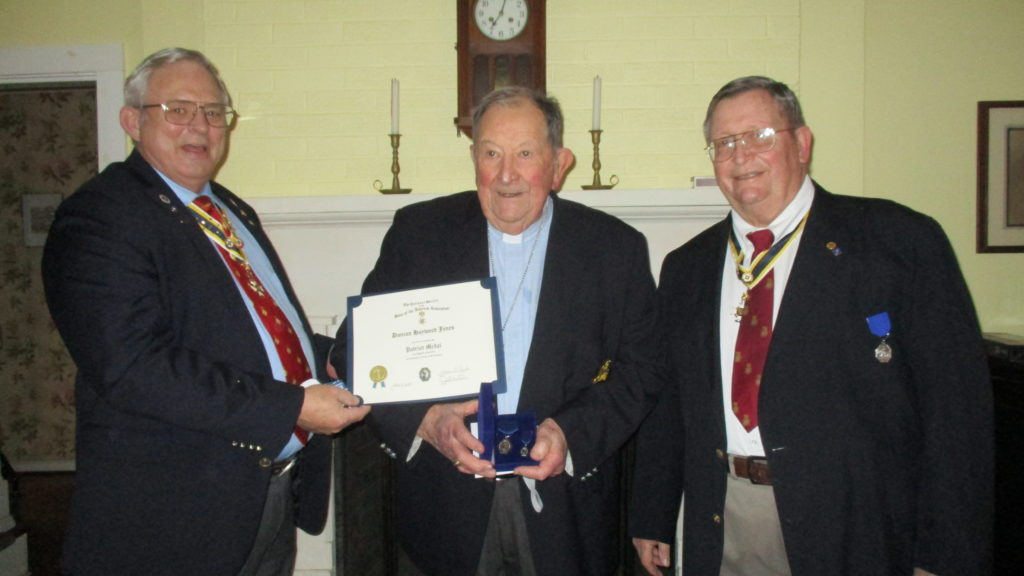 NC SAR Past President Ken Wilson, Halifax Resolves Chapter Chaplain Rev. Duncan Jones and Immediate NC SAR Past President James Becker