RRPD Officers Awarded SAR Medal for Heroism
Two Roanoke Rapids Police Officers were recognized by Halifax Resolves Compatriot E.C. Bobbitt and Past President Ken Wilson at the June city council meeting for their actions during an incident in December 2017. The award citation reads as follows:
"Officer Joe DeSare conducted a traffic stop of a vehicle for a violation in the 1000 block of Franklin Street and during the stop he noticed an odor of marijuana coming from inside the vehicle. Officer Matt Hunsucker arrived to back up Officer DeSare on the stop and at this time a passenger jumped from the vehicle, attempting to run away but was caught by Officer DeSare. Almost simultaneously a second subject attempted to run away but was apprehended by Officer Hunsucker.
During Officer's DeSare foot pursuit of the first suspect, Officer Hunsucker was calling in the direction of the foot pursuit for Officer DeSare relaying the area where Officer DeSare was while continuing to watch the other 3 occupants of the vehicle. Once Officer DeSare caught the suspect, the suspect continued to fight.  During the struggle, Officer DeSare dropped his flashlight and the suspect tried to pick it up and use it against him. The suspect also continued to reach for his pants until finally subdued by Officer DeSare and taken into custody.   During a search of the suspect a handgun was located inside the suspect's pants along with narcotics.  It was learned that the suspect was out on bond on a murder charge.
The acts and team work by both Officers DeSare and Hunsucker resulted in both suspects being taken into custody without any injuries to the suspects or officers.
Officer Hunsucker's selfless devotion to his partner and decision making were instrumental in keeping his partner safe and directing additional officers to him.
Officer DeSare's restraint and tenacity for justice led to the arrest of the suspect while putting himself in harm's way in a situation that could have led to him using deadly force.
Officers DeSare and Hunsucker acts of Heroism reflect great credit upon themselves, the department and the City of Roanoke Rapids.
The Sons of the American Revolution wish to recognize these two officers with the Society's Medal for Heroism. This award is a once in a lifetime award. The certificate reads: "In recognition of outstanding bravery and self sacrifice in the face of imminent danger, thus exemplifying the high ideals and principles which motivated and sustained our Patriot Ancestors.' "
Photo courtsey rrspin.com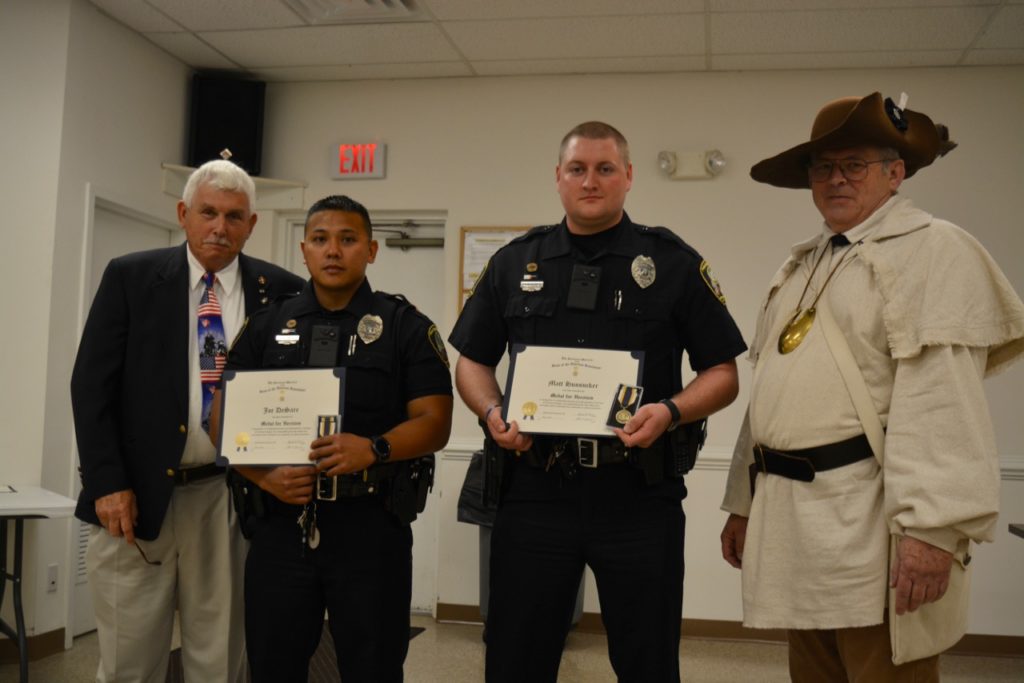 Compatriot E.C. Bobbitt, Officer Joe DeSare, Officer Matt Hunsucker, Compatriot Ken Wilson