Manning 4th Grade Student Wins NC SAR Poster Contest
Elliott Sass, a 4th grade student at Manning Elementary School in Roanoke Rapids, has won the NC Sons of the American Revolution Americanism Poster Contest.  The contest topic changes annually from a Revolutionary War Patriot to a battle/event.  The topic this year was to research a local Revolutionary War Patriot, and design a poster that depicted their accomplishments.  The subject of Sass's poster was Halifax Patriot Willie (pronounced "Wylie") Jones.  The poster now advances to the national competition to be conducted during the SAR's National Congress in Knoxville TN, July 7th-13th.
In recognition of his work, the North Carolina SAR has awarded Elliott with a check for $250.00. His teacher, Ms. Jessica Small, received a check for $100.00.  The awards were made on behalf of the NC SAR by Ken Wilson, President of the Halifax Resolves Chapter.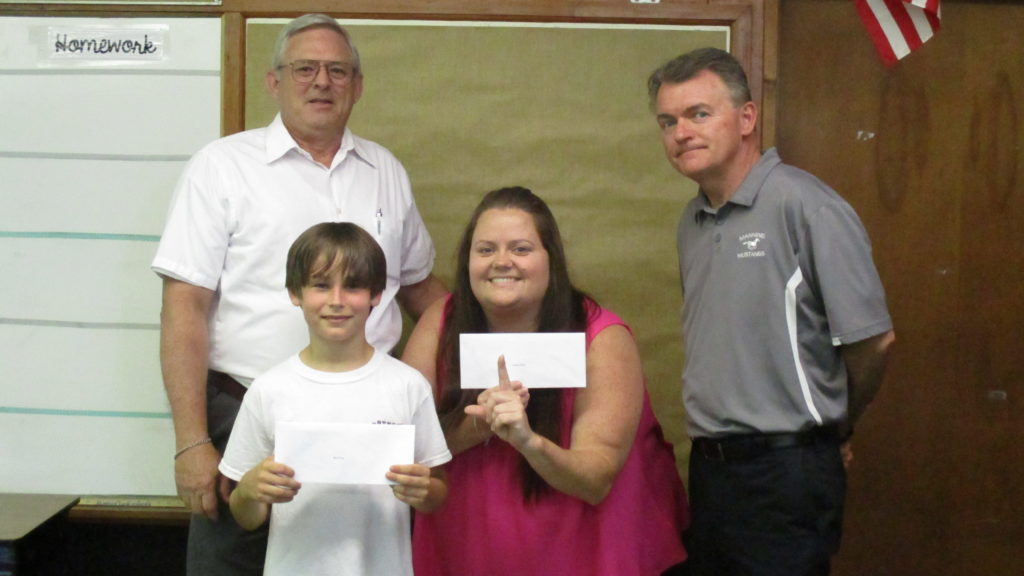 front row- Elliott Sass – back row –   Mr. Ken Wilson, Halifax Resolves SAR Chapter President; Ms. Jessica Small, 4th grade teacher; Mr. Mike Ferguson, Manning Elementary School Principal