President's Piece 31 May 2016
It has been a month of travel that has been very rewarding.  I spent the first week after assuming the Leadership of the North Carolina SAR cleaning up actions that had been determined by the membership at the Annual Convention.  I worked to ensure the bylaws were properly amended and initiated paperwork for securing national life memberships for eight of our Old Life Members.
By the second week (14 May 2016) Lower Cape Fear Chapter president Gene Funderburk and I were ready to travel and visited the Alamance Battleground remembrance capably coordinated by Dr. Sam Powell.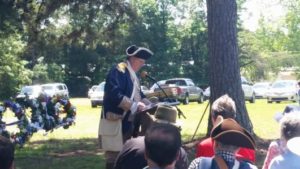 State signage recognizing Mecklenburg's Declaration of Independence
We had perfect weather, an excellent program and we were able to identify the North Carolina entries for the National Brochure contest and the National Poster contest.  The brochure winner was:  Riley B. Mills from Roanoke Rapids (Halifax Resolves); the poster winner was Blanca Labandera from Charlotte (Mecklenburg).  The combin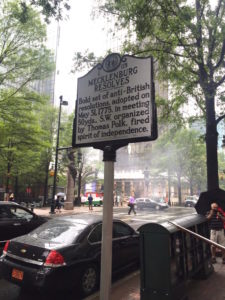 ed North Carolina Color Guard presented colors along with a local Boy Scout troop.  It was a great weekend.
The next week of travel took me across the state three times.  I was finally able to participate in Meck Dec day in Charlotte and as a Color Guard member we unveiled an historical marker on North Tryon Street that identified the Mecklenburg Resolves.
It was also a day to celebrate my wife's birthday with family in Greensboro.  The next morning I travelled back to Wilmington to make my Lower Cape Fear chapter business meeting.  On Sunday it was back across to swear in new officers for the Salisbury Chapter during their chapter meeting in the Rowan Museum.  Compatriot Frank Merrell will enthusiastically lead the chapter.  Grady will still be the registrar, genealogist and all-around go-to guy in the chapter; however, the chapter is looking strong for the future.
The following weekend, the immediate past president of the Lower Cape Fear Chapter, Dr. Charles Lewis and I travelled to Lancaster, SC to remember the Battle of the Waxhaws or Col Buford's Massacre.  The combined North Carolina and South Carolina Color Guard represented the SAR with pride.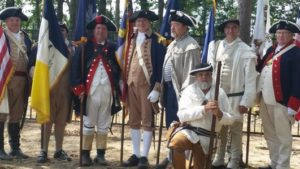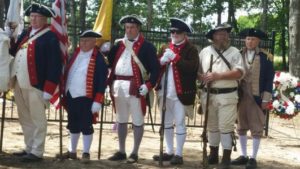 The end of a perfect month was the celebration of Memorial Day in the Wilmington National Cemetery where I presented a wreath representing the Lower Cape Fear Chapter SAR.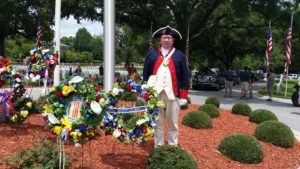 I am looking forward to the month of June with a grave marking in Bethania, a remembrance at Ramsour's Mill and a grave marking in Bessemer City, a Flag Retirement ceremony in Wilmington, a visit with the South Carolina Board of Governors and finally a review of the Battle at King's Mountain in their little theatre production.