Nash Central HS Hosts SAR Speaker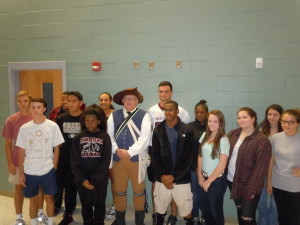 The Nash Central High School AP History class hosted Sons of the American Revolution Compatriot Ken Wilson of the Halifax Resolves chapter who presented a program on the significance of the dates displayed on the North Carolina flag. The program covered the period in North Carolina history beginning with the Mecklenburg Declaration of Independence to the adoption of the Halifax Resolves.
AP History teacher, Mr. Renny Taylor, received four SAR CD's pertaining to the Revolutionary War, the U. S. Flag and the Articles of Association of 1774. He also received replica block prints of two Revolutionary War period newspapers and the Declaration of Independence.