Memorial Day – Wilmington National Cemetery
Memorial Day, originally called Decoration Day, is a day of remembrance for those who have died in service or after service to our nation.  Memorial day was born out of the desire to pay homage to fallen Union soldiers following the Civil War.  The first state to officially recognize the holiday was New York in Waterloo in 1873; it was primarily a remembrance only celebrated in the Northern States.
By the end of World War I, it was determined that we needed to honor veterans who had died in any conflict.  It is now observed in almost every state on the last Monday in May.
The tradition is carried on at the Wilmington National Cemetery in a ceremony conducted by the New Hanover County Veterans Council, a loose confederation of local veteran organizations, their auxillaries and other patriotic organizations.  The Lower Cape Fear Chapter SAR is an affiliate of the New Hanover County Veterans Council.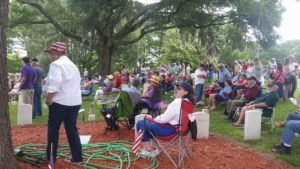 Over 300 people attended the event this year with Congressman David Rouser as the featured speaker.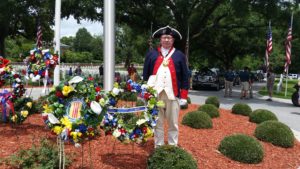 Gary O. Green, President of the North Carolina SAR and Registrar of the Lower Cape Fear Chapter  rendered honors by laying a wreath in honor of the more than 5,600 veterans interred at the Wilmington National Cemetery.