Blue Ridge Color Guard at the Brevard Veterans Day Ceremony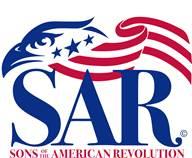 Chartered 21 April 1928 in Asheville, North Carolina later became the Blue Ridge Chapter and is the oldest active Chapter in Western North Carolina.
On November 11, 2023, in Brevard, North Carolina, Blue Ridge Chapter members Steve Greene, Larry Chapman, Lance Dickinson, and Dave Gunther were on hand for the annual honoring of all the veterans. There were several veterans many in their late nineties and some over 100 years old including one who had survived the attack on Pearl Harbor on December 7, 1941, who were honored for the service. Despite the uncertain weather conditions, this event was attended by the usual large crowd that always honors their veterans with a sense of great pride.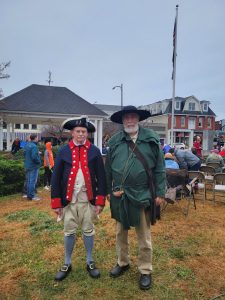 Dave Gunther and Steve Greene in their Colonial uniforms
It is easy to see that the Blue Ridge Chapter is an active, energetic, busy chapter that is always looking for new members to help us reach our challenging goals for the recognition of the sacrifices our Patriots made for us to enjoy all the freedoms we have today.