Recent Blue Ridge Color Guard Activity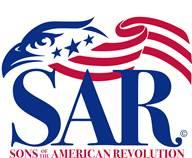 Chartered 21 April 1928 in Asheville, North Carolina, later became the Blue Ridge Chapter and is the oldest active Chapter in Western North Carolina.
On October 25, 2023, at 3:30 p.m. in Pisgah Forest, North Carolina at the Anchor Baptist Church, the Blue Ridge Color Guard presented colors during a speech on patriotism given by Lt. Col. Allen West. Color Guard members are listed below: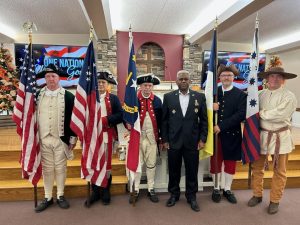 Larry Chapman, Lance Dickinson David Gunther, Allen West, Jeff Brewer, and Brett Callaway
****************************************************************************************************************************************
On November 3, 2023, at 11:30 a.m. in the Reuter Center at the University of North Carolina at Asheville (UNCA) in Asheville, North Carolina, Color Guard members Craig Issacson & Garry Linton gave an educational 90-minute PowerPoint presentation about how the Revolutionary War was won in the Southern theatre. 50 members of the Osher Lifelong Learning Institute (OLLI) were shown how this was instrumental in the eventual surrender of Cornwallis to Nathan Greene in 1781. The gritty details of who and what they had to overcome to outsmart the British were explained with a message both Craig and Garry gave from their hearts. They noted that in many battles children in their teens as early as 13 years old fought in the Militia to defeat the world's strongest army. Garry gave several demonstrations about gunpowder and displayed his replica rifle like those that were used during the Revolutionary War. Their stunning presentation was overwhelmingly approved by the members in attendance at this educational event.
Craig Isaacson  Garry Linton                             Garry Linton                               Craig Isaacson
It is easy to see that the Blue Ridge Chapter is an active, energetic, busy chapter that is always looking for new members to help us reach our challenging goals for the recognition of the sacrifices our Patriots made for us to enjoy all the freedoms we have today.