Blue Ridge Chapter Meeting October 14, 2023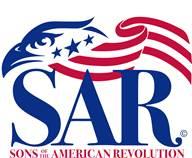 Chartered 21 April 1928 in Asheville, North Carolina, later became the Blue Ridge Chapter, and is the oldest active Chapter in Western North Carolina.
Dues for several members have not been received for their 2024 dues. Treasurer Hillabrand asked that those outstanding members please pay their dues before November 15, 2023, to allow him enough time to process everything by the end of November.
Registrar Burkhart reported that membership remains at 95 members and 2 dual members.
Blue Ridge Color Guard will present at the Transylvania Courthouse for Veterans Day Commemoration on November 11, 2023, at 11 a.m. Color Guard will present at Anchor Baptist Church on October 25, 2023, at 3:30 p.m. Color Guard will present at the Grave Marking Ceremony of Patriot William Bryson on N. Mills River Rd. in Mills River, NC on October 21, 2023, at 11 a.m.
We have recently presented 8 flag certificates to individuals and organizations who are properly displaying the American Flag.
Larry Chapman reported that the JROTC Program will reactivate in February or March 2024.
SAR recognitions for Law Enforcement, Fire, and EMS will be awarded at our Annual Meeting on December 9, 2023, at the Elks Lodge in Hendersonville, NC.
Historian Ken Welgharz reminded folks when on Facebook, to go to Blue Ridge Chapter NCSAR and issue a like for everything they see.
Several awards and recognitions were given to the following:
10-year membership award to Larry Chapman, 20-year membership to Lance Dickinson,  Certificate of Appreciation to Ron Chapman for his excellent public speaking skills, Blue Ridge Chapter received the President Generals Educational Outreach streamer and certificate, Liberty Medal NSSAR awards to Craig Isaacson and the late James Brush, supplemental certificate to Brian McCall, membership certificate to Chris Canter, supplemental certificate to Charles Hunter DeBruhl, supplemental certificate to Craig Isaacson,  corrected membership certificate to Charles Evans, 5-year membership certificates to both Brett Callaway and Jeff Hunt, and later in the meeting a Certificate of Appreciation to speaker Trevor Freeman.
Larry Chapman Steve Greene Lance Dickinson   Steve Greene Lance Dickinson
Steve Greene Brian McCall Lance Dickinson   Steve Greene Brenda Canter Lance Dickinson
Steve Greene Craig Isaacson Lance Dickinson  Steve Greene Charles Evans Lance Dickinson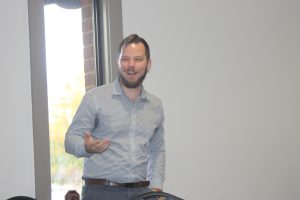 Guest Speaker Trevor Freeman
Mountain region VP, Craig Isaacson, gave a report on the recent BOM meeting.
Chapter VP Garry Linton reported that a draft resolution has been developed to submit up-channel with regard to the removal of statues/markers honoring the Patriots of the Revolutionary War era. He noted that part of the SAR mission is to honor those who were responsible for efforts that led to the independence of the United States. This matter will be brought up for consideration at our Annual Meeting on December 9, 2023, at the Elks Lodge in Hendersonville, NC.
President Steve Greene advised that the Executive Board is open to suggestions for the designation of funds donated by Evie Brush in memory of her husband Compatriot Jim Brush.
Guest speaker Trevor Freeman of the Asheville Museum of History related his studies of the reactions to the Tories in Western North Carolina in the early years of our republic. Over 400 loyalists lived in the mountains with many of them living in Rutherford County. He also mentioned new exhibits at the Smith-Mcdowell House in Asheville that may warrant a visit.
It is easy to see that the Blue Ridge Chapter is an active, energetic, busy chapter that is always looking for new members to help us reach our challenging goals for the recognition of the sacrifices our Patriots made for us to enjoy all the freedoms we have today.