Blue Ridge Color Guard Grave Marking Ceremony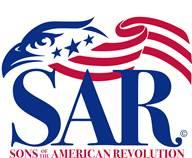 Chartered 21 April 1928 in Asheville, North Carolina, and is the oldest active Chapter in Western North Carolina.
On October 7, 2023, in Pisgah Forest, North Carolina, at 10:00 a.m. at the Davidson River Cemetery, the Blue Ridge Color Guard presented the colors in a grave marking ceremony for Patriot Lambert Clayton. Rebecca Wood, 4x Great Granddaughter of Patriot Lambert Clayton, and member of the Daughters of the American Revolution, shared Patriot Clayton's remarkable history of all that he did to help procure the freedoms we have today. On a picture-perfect day there were about 25 guests in attendance to honor Patriot Lambert Clayton
Color Guard Members: Jeff Brewer, Brett Callaway, Larry Chapman, Steve Greene, Dave Gunther, Craig Issacson, Garry Linton & Tom Rightmyer.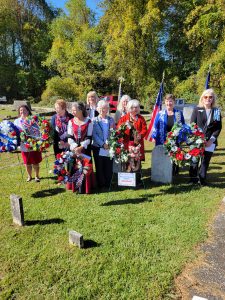 The following DAR Chapters rendered honors and provided wreaths to commemorate the solemn ceremony: Rebecca Sevier Waddell ( Julia Greene, Regent), (Edward Buncombe Chapter), Ruth Davidson & Connie Issacson (Abraham Kuykendall Chapter).
It is easy to see that the Blue Ridge Chapter is an active, energetic, busy Chapter that is always looking for new members to help us reach our challenging goals for the recognition of the sacrifices our Patriots made for us to enjoy all the freedoms we have today