Blue Ridge Chapter Awards Flag Certificate to Grandview Community Baptist Church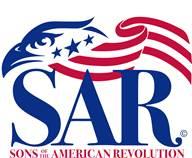 Chartered 21 April 1928 in Asheville, North Carolina, later became the Blue Ridge Chapter, and is the oldest active Chapter in Western North Carolina.
On August 27, 2023, and after the Sunday church service, Blue Ridge Chapter President Steve Greene presented the National Sons of the American Revolution "Flag Certificate" to members of the Grandview Community Baptist Church. They were definitely surprised and appreciative to be recognized for their appropriate display of the American Flag. They displayed the certificate in a prominent place that could be viewed by anyone entering or exiting the church. The flag has permanent lighting for proper night display. It was dedicated in honor of and to the memory of all veterans of all United States services. The Blue Ridge Chapter Flag Chairman Clarence Rogers, Jr. along with Blue Ridge Chapter President Steve Greene signed this auspicious document. Also present for this memorable event was Rebecca Sevier Waddell DAR Chapter Regent, Julia Greene.
It is easy to see that the Blue Ridge Chapter is an active, energetic, busy Chapter that is always looking for new members to help us reach our challenging goals for the recognition of the sacrifices our Patriots made for us to enjoy the freedoms we have today.