Blue Ridge Chapter Meeting August 12, 2023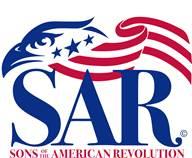 Chartered 21 April 1928 in Asheville, North Carolina, and later became the Blue Ridge Chapter and is the oldest active Chapter in Western North Carolina.
On August 12, 2023, at the Hawg Wild BBQ Restaurant in Pisgah Forest, North Carolina, the Blue Ridge Chapter of the Sons of the American Revolution held its Chapter meeting. New members David Linton and Charles Evans were inducted into the SAR and each was presented their certificate and rosette by President Steve Greene, Vice President Garry Linton, and Registrar Mike Burkhart.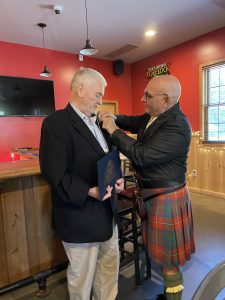 David Linton Garry Linton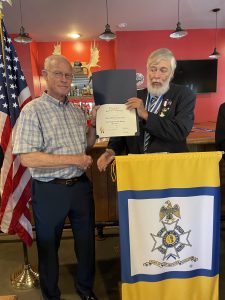 Charles Evans Steve Greene
Western VP Craig Issacson received a Supplemental Patriot Ancestor Certificate. Ron Hillabrand has reassumed the duties of Chapter Treasurer. Chapter membership is at 95 with three new applications in process at National. Hopefully, someone will step up and volunteer to help Registrar Mike Burkhart to keep up with all he has to do. Our Chapter Color Guard will be present at Naturalization Ceremonies in Charlotte on September 8th and Asheville on September 15th. Future Grave Marking events will be as follows:
September 17th, 2 p.m. for Jacob Duckett, Jr. at Brick Church Cemetery in Leister, NC, October 7th, 11:00 a.m. for Lambert Clayton, at Davidson River Cemetery in Pisgah Forest, NC, October 21st, 11:00 am. for William Bryson, at Bryson Family Cemetery in Mills River, NC, and November 4th, 11:00 a.m. for James Andrew Miller at Old French Broad Cemetery in Rugby, NC.
On August 5th, Member Jeff Brewer in uniform, gave 3 presentations at the Lake Toxaway Community Heritage Day gathering. On November 3rd, Craig Issacson and Garry Linton will lead classes on The Life of a Revolutionary Soldier and The Southern Campaign for OLLI at the Reuter Center on the UNCA campus.  Member Larry Chapman will be meeting with all ROTC instructors this fall. Chapter Historian Ken Welgarz has launched a public Facebook page for the Blue Ridge Chapter. We are in the process of getting all of our Western region Chapters to participate in the purchase of a SAR bench for the proposed Madison County Veterans Park. All donations to this project are more than welcome. We are always looking for more members to join the Color Guard.
Member Ron Chapman, a published author, gave a remarkable, precise oratory on "The Regulator Movement in North Carolina." Although a lesser known but a major part of North Carolina's Revolution Period history that culminated in the 1771 Battle of Alamance and all of its aftermath.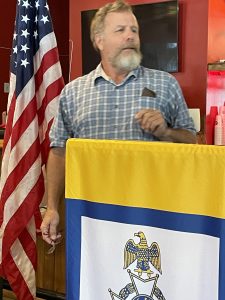 Ron Chapman
 It is easy to see that the Blue Ridge Chapter is an active, energetic, busy Chapter that is always looking for new members to help us reach our challenging goals for the recognition of the sacrifices our Patriots made for us to enjoy the freedoms we have today.