NC Rumbaugh Orator Wins National Third Place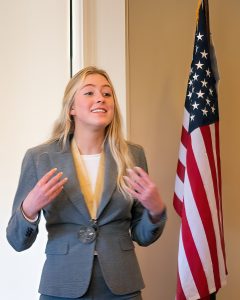 Aliza Jankowsky, the winner of the NC SAR Rumbaugh Oration Competition, has placed third in the National Competition.
Ms. Jankowsky won the Raleigh Chapter and NC Rumbaugh Competitions on March 11 at Governors Club in Chapel Hill, with her oration, "Esther Reed:  The Enduring Innovator."  She, and all the other competing SAR State Society winners then submitted videos of their orations to a judging panel.  Six orators were selected to compete in person at the NSSAR National Congress in Orlando, and she was selected as one of the finalists.   Aliza and her mother Angela Jankowsky's travel expenses to Orlando were paid by NC SAR.
The finalists presented their orations at the Congress Evening Program on Sunday, July 16.  Ms. Jankowsky placed third, and received $3,000 and an Olympic-sized medal.
Ms. Jankowsky, now a graduate of Green Hope High School in Cary,  plans to continue her education at the University of North Carolina – Chapel Hill in the fall.
NC SAR Rumbaugh Chairman Lowell Hoffman is already planning next year's competition.  He will gladly assist NC SAR Chapters considering holding a Rumbaugh Oration Competition.