General Francis Nash Chapter Presents UNC Army ROTC Medal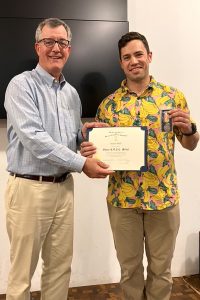 At an informal Hawaiian Luau-themed Luncheon on April 26, GFN ROTC Chairman Guy Guidry presented the SAR Outstanding ROTC Cadet Medal to Aaron Hull, a Green-to-Gold Scholarship winner.   Aaron Hull joined the University of North Carolina's Army ROTC program after serving in the 1st Security Forces Assistance Brigade, an Army unit whose mission is to train, advise and assist armed forces of partner nations.  The Army Green-to-Gold program provides options for enlisted Soldiers interested in pursuing a baccalaureate or graduate degree and earning a commission as an Army Officer.  He will graduate with a Masters Degree in Public Health, and will be commissioned as an Explosive Ordinance Disposal Officer.
Recipients of the SAR ROTC Medal are selected by the Commanding Officer of the ROTC Unit, based on leadership qualities, military bearing, and general excellence.