Blue Ridge Chapter Meeting February 11, 2023
First North Carolina Chapter of the Sons of the American Revolution. Chartered 21 April 1928 in Asheville, North Carolina, and later became the Blue Ridge Chapter.
Chaplain Tom Rightmyer and President Steve Greene led a Memorial Service for the departed Blue Ridge Compatriots Michael Keleher, Dr. Kenneth Israel, Rev. Milton Ohlsen, and John Huggins. Both Mrs. Keleher and Mrs. Olsen were present and shared some of their precious memories.
President Greene recognized former Chapter Presidents: Jim Brush, John Boyd, (Blue Ridge Chapter); (Tom Long  McDowell Chapter, Franklin, NC); Steve Greene (Blue Ridge Chapter); Craig Isaacson (Blue Ridge Chapter); Lance Dickinson (Tucson, AZ Chapter). They are pictured here below:
(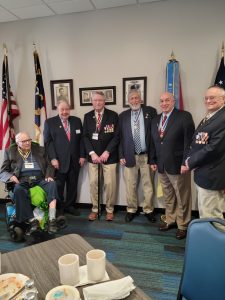 We now have 87 members  (85 Primary and 2 Dual).
Color Guard Commander Garry Linton shared a very active Color Guard schedule for 2023 as shown below:
February 25, Battle of Moore's Creek Bridge, 10: a.m.; March 15, Battle of Guilford Courthouse, 11:00 a.m.; March 17, Charlotte Naturalization Ceremony, 11: a.m.; March 22, JROTC Competition Event at Mountain Heritage High School, Burnsville, NC, 2:00 p.m.; March 25, Patriot William Moore Grave Marking, 63 Captains Drive, Candler, NC, 11:00 a.m.; April 21, Asheville Naturalization Ceremony, 11:00 a.m.; May 6, Elks Club Convention, Crowne Plaza Hotel, 1 Resort Drive, Asheville, NC, time TBD; July 14, Charlotte Naturalization Ceremony, 11:00 a.m.; September 8, Charlotte Naturalization Ceremony, 11:00 a.m. September 15, Asheville Naturalization Ceremony, 11:00 a.m.; October 20, Charlotte Naturalization Ceremony, 11:00 a.m.; November 17, Charlotte Naturalization Ceremony, 11:00 a.m. The Blue Ridge Color Guard welcomes more members to join the Color Guard. New members will get a $100.00 reimbursement toward uniform expenses.
Grave Marking Committee Craig Isaacson has 5 grave markings in the works for 2023 with the first one being held in cooperation with the Felix Walker Chapter on March 25th. Americanism/Flag Committee former Chairman Tom Long reported seven certificate presentations were made in 2022. Treasurer Ron Hillabrand will become the Assistant Treasurer and Dave Simler will become the new Chapter Treasurer effective March 31st. Current open volunteer positions are available and one desperately needed to be filled is Photographer (for publication in State and National SAR publications and our Website.)
Former Blue Ridge Chapter President Isaacson gave a very memorable and informative presentation on the "Six Months that Changed the World: October 1780-March 1781," as the four Revolutionary War battles of Kings Moutain, Cowpens, the Race for the Dan and Guilford Courthouse were all fought in the Carolinas and did truly did change the world.
It is easy to see that the Blue Ridge is an active, energetic busy chapter that is always looking for new members to help us reach our challenging goals for the recognition of the sacrifices our Patriots made for us enjoy all the freedoms we enjoy today.