Ralph Nelson retires as Registrar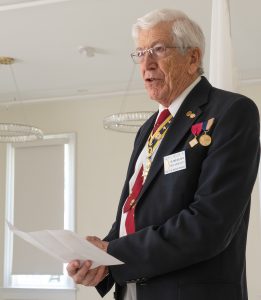 Dr. Ralph D. Nelson, Jr, has retired as GFN Registrar.  In 1989, Ralph joined the Delaware SAR, serving as Chapter Registrar through State President, and nationally as Vice-President General.  He later belonged to the Florida and North Carolina Societies.  Ralph created, and from 2004 through 2008 edited, the SAR website called "The Real Story of the American Revolution".  For 25 years he served in local, state, and national color guard units.  Since 2000 Ralph has helped develop the Washington-Rochambeau Revolutionary Route — a 700-mile National Historic Trail.  He has helped over 120 prospects become SAR members.
Ralph is ably succeeded by Captain John H. Cocowitch, USN (Retired), who had served as Assistant Registrar.
Speaking personally, as a SAR member, and as a GFN Officer,
Thank you, Ralph