Francis Nash memorialized at Alamance Battleground
A nameplate honoring Francis Nash has been added to the Alamance Battleground Memorial Trail.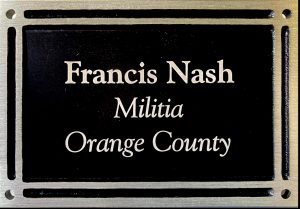 The trail officially opened on October 2, 2021, to honor those who participated in the War of Regulation between 1765 and 1771.  At the head of the trail, a kiosk bears memorial nameplates for individuals who either supported the Regulation or enlisted in the North Carolina Militia expedition against the Regulators.  The memorials on the kiosk are accompanied by a Book of Remembrance, to provide additional information about each person who is memorialized there.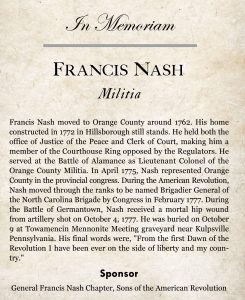 The Nash memorial at the Alamance Battleground Memorial Trail is the first sponsored by a SAR Chapter.