NCSSAR Blue Ridge Chapter Meeting August 13, 2022
First North Carolina Chapter of the Sons of the American Revolution. Chartered 21 April 1928 in Asheville, North Carolina, and later became the Blue Ridge Chapter.
During our chapter meeting, in Brevard, North Carolina, three new members were sworn in. The newest members to join our 80-member chapter are Jeffrey Brewer(Brevard), Daniel McCaugherty(Arden), and Kenneth Weglarz(Saluda).  Each new member brings talents that will enhance the Blue Ridge Chapter's education and history/genealogy programs.
We were honored to have two SAR dignitaries in attendance for this meeting. Sam Powell, from Burlington, NC, is the current State Treasurer for the North Carolina Society (NCSSAR) and past President General of the National Society, (NSSAR) David Sympson (2010-2011). David Sympson's future son-in-law, Daniel McCaugherty was one of the new inductees.
Past President General Sympson recognized Blue Ridge members who were military veterans in the American Armed Forces. Each veteran was given a Veterans Award pin that featured the American flag in honor of their unselfish service to the United States of America. The oldest recipient honored was 97-year-old James Brush of Mills River.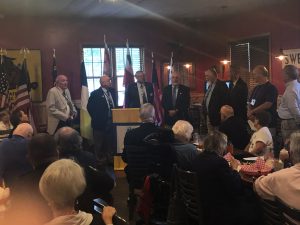 Registrar Mike Burkhart stated that we have 9 new applications in process at National, as well as several supplementals. Color Guard Commander Garry Linton is looking for talented fife and drum players to join the Color Guard. The Color Guard will be participating in a Compatriot Grave Marking in Forest City, NC on December 10th. Americanism/Flag Committee Chairman Tom Long asked all members to be on the lookout for more locations that would qualify to be awarded for their proper display of the US flag. Education Committee Co-Chairman Garry Linton is joining with the Joseph McDowell DAR Chapter to present a program at a Henderson County School on September 16th. Color Guard Commander Garry Linton and Awards Chairman Lance Dickinson presented the Color Guard Award to Tom Long for his long-time participation in the Color Guard. Rob Hunter will be receiving his 30-Year Recognition award.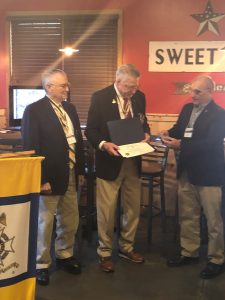 Chapter President Craig Issacson announced the Blue Ridge Chapter Officers Slate for 2023-2024 as follows: President – Steve Green, Vice President – Garry Linton, Secretary – Paul Grass, Treasurer – Ron Hillabrand, Registrar – Mike Burkhart, Chaplain – Tom Rightmyer, and Historian – Jim Brush. The Officer elections will be held at our October 8, 2022 Chapter Meeting at J & S Cafeteria in Asheville, NC.
Craig Issacson & Garry Linton will represent our Chapter at the Vigil at George Washington's Tomb, Mount Vernon, Virginia on Constitution Day, September 17th. All members are invited to participate.
The Blue Ridge Chapter Annual Meeting will take place at the American Legion Post 77 in Hendersonville, NC on December 3, 2022, at 11 a.m.
The Blue Ridge Color Guard will participate in Naturalization Ceremonies in Charlotte, NC on August 19th and in Asheville, NC on September 23rd.
Compatriot Jeff Brewer presented an interesting program on the vital leadership of his ancestor, Col. William Prescott, in the famous and critical battle of Bunker Hill.
It is easy to see that the Blue Ridge Chapter is an active, energetic, busy chapter that is always looking for new members to help us reach our challenging goals for the recognition of the sacrifices our Patriots made for us to enjoy the freedoms we have today.