Nash Central HS Student Wins Essay Contest
Nash Central HS 11th grade student Ms. Camryn Eley is the winner of the Halifax Resolves Chapter NC SAR Knight Essay contest.  This contest requires the student to write an 800 – 1200-word essay about a person, event, philosophy or ideal associated with the American Revolution, Declaration of Independence, or the framing of the United States Constitution.
Ms. Eley is a student in the AP History class taught by Mr. Renny Taylor.  For her efforts, she received an Olympic style medal, a chapter-level winner's certificate and a check for $100.00.  Two additional students in the class, Ms. Christina Huynh and Ms. Shanna Howell received honorable mention certificates. Mr. Taylor was recognized with a Knight Essay Certificate of Appreciation for his participation and support of the contest.
Camryn's entry will now be sent forward to the state level competition.  The North Carolina Knight Essay winner will be announced during the April 2022 NC SAR Annual Meeting in Greensboro, NC.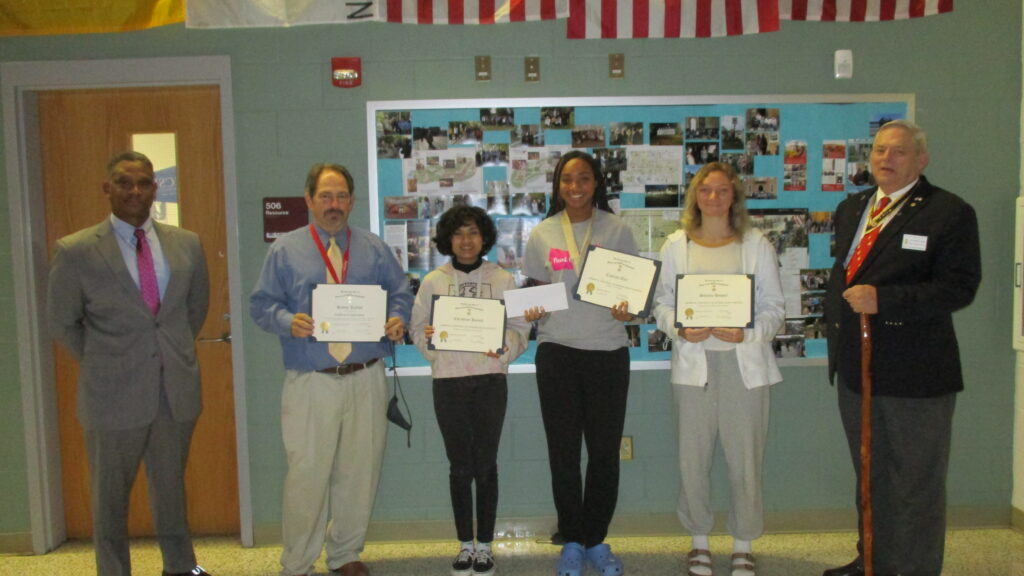 (L-R) NCHS Principal Mr. Victor Ward, Mr. Renny Taylor, Ms. Christina Huynh, Ms. Camryn Eley, Ms. Shanna Howell, Halifax Resolves Chapter President Mr. Ken Wilson.