Two Roanoke Rapids Police Officers Recognized
During a recent meeting of the Roanoke Roanoke Rapids City Council the Halifax Resolves Chapter recognized two Roanoke Rapids Police Officers.  Compatriot Ken Wilson and City Councilman/Compatriot E. C. Bobbitt made the presentations.
Patrolman John Wind was awarded the SAR Life Saving Medal in recognition of his response to a call on Oakland St. in Roanoke Rapids concerning a female who had overdosed on Fentanyl and was turning blue.  Officer Wind quickly administered Narcan and began chest compressions.  The subject regained consciousness just as EMS arrived.
The Roanoke Rapids Police Department was notified  later by Vidant North Hospital of his heroic actions.  The female subject wanted to be sure Officer Wind knew she was thankful for saving her life.
This officer's quick response and willingness to act to help a fellow human being in  a life threatening situation is to be commended.
Lt. Charles Burnette was presented with the SAR Law Enforcement Commendation Medal.  Prior to joining the Roanoke Rapids, Police Department in December of 2000, Charles Burnette was employed with the Department of Corrections.  He worked his way through the ranks in the department and was promoted to police officer II in July 2003, master officer in October 2003, sergeant in July 2006, patrol lieutenant on August 2012, Patrol Captain on July2020 and Administrative Lieutenant August 2020. Charles Burnette has always served the citizens of Roanoke Rapids with great pride, honor, and ethics.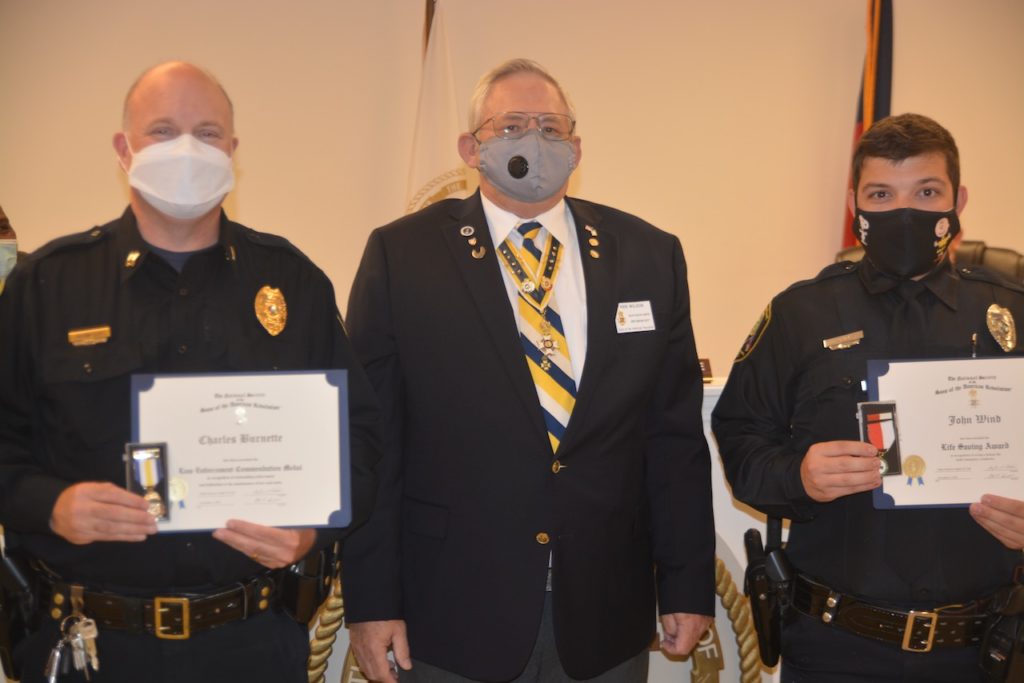 L-R: Lt. Charles Burnette, Ken Wilson, Patrolman John Wind.  Not shown Compatriot E. C. Bobbitt.                photo courtesy rrspin.com