RRPD Captain Awarded SAR Law Enforcement Commendation Medal
Halifax Resolves Past President Ken Wilson and Compatriot E.C. Bobbitt presented RRPD Captain Bobby Martin with the SAR Law Enforcement Commendation Medal at a recent City Council meeting. The citation reads as follows:
"Captain Martin is an exceptional leader within the Roanoke Rapids Police Department supervising the Criminal Investigative Division which is comprised of criminal investigators, narcotic investigators and animal control officer.
In addition, he assists with the daily operation of the police department with making policy, budget and personnel matters that come up throughout the department.
Captain Martin serves on various committees and boards to help serve not only the citizens of Roanoke Rapids, but the citizens of Halifax County. He takes the lead in reaching out to the youth in our community by inviting them to the early morning basketball games on Tuesday and Thursday at TJ Davis Recreation.
Another example on how Bobby is trying to bridge the disconnect between law enforcement of our youth, two young men were caught smoking marijuana and instead of arresting them or citing them with criminal charges, he spoke with the parents of the young men and learned that they were good kids and were doing good in school. Bobby took these young men under his wing and has been providing a mentorship to them; they have helped the police department on various community events on their own time. Instead of marking their lives in a negative way they he has had a positive impact with them.
The division Captain Martin leads has a lot of pressure placed on them to help the victims of crimes, whether it is a bike larceny, missing person, sexual assault or a homicide. He works diligently to provide each victim with some type of resolution or closure in each of the cases. Bobby works long hours on the clock and off the clock to provide the best service to the crime victims.  He is also heavily involved in providing information at community events and programs to the public.
Captain Martin is always ready to assist any officer that has a need or advice on how to handle cases. Bobby understands when he hears his name called from the Chief's office that something needs to be handled immediately; he and his staff are always ready to drop what is on their plate to take care of things.
In recognition of his service and contributions to keep the citizens of Roanoke Rapids safe, the Sons of the American Revolution are presenting Captain Bobby L. Martin with the Law Enforcement Commendation Medal. This award is a once in a lifetime award to an individual.  It is presented 'In recognition of outstanding achievement and dedication to the maintenance of law and order.' "
Photo courtesy rrspin.com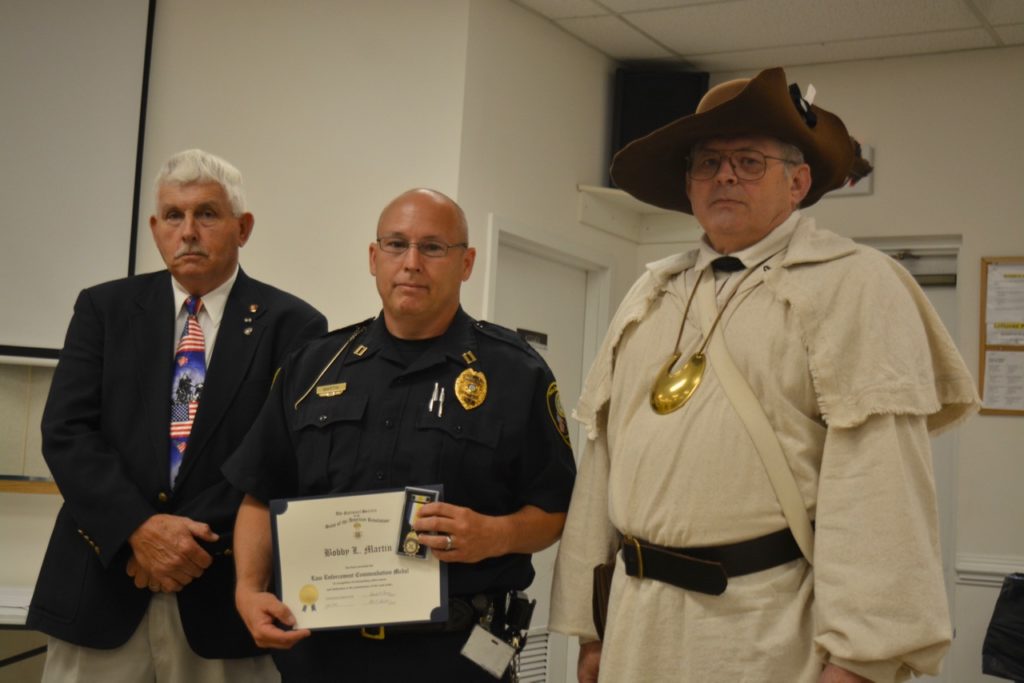 Compatriot E. C. Bobbitt, Captain Bobby Martin, Compatriot Ken Wilson