NC Governor Roy Cooper Inducted into the SAR
FOR IMMEDIATE RELEASE
Contact: Robert Sigmon
Phone: (919) 349-8245
Email: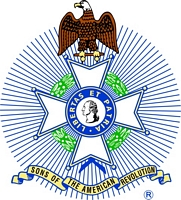 NC Governor Roy Cooper Inducted into the SAR
(Raleigh, NC, April 16, 2018) On Wednesday, March 28, the North Carolina Society of the Sons of the American Revolution (NCSSAR) had the distinct privilege to induct North Carolina Governor Roy Asberry Cooper, III and his brother Judge Pell Carlton Cooper into the Society. The 3:30 PM ceremony was held in the historic House chambers on the second floor of the State Capital in Raleigh. The Governor was accompanied by First Lady Kristin Cooper.
Governor and Judge Cooper were eligible for membership in the SAR because of direct descent from Revolutionary War Patriot Marcom Cooper who served as both Grand Juror and Petit Juror during the war (1778-1779) in what is now Nash County. North Carolina Society. NC Mountain Region Vice President Bill McEntire was instrumental in initiating and conducting the research necessary to prove Governor and Judge Cooper's lineage. Before an application can be submitted for membership in the SAR, each generation must be proved with verifiable documentation (i.e. wills, deeds, census records, church records, birth records, and death records). All documentation is recorded on the application and submitted to SAR headquarters in Louisville, Kentucky.
The induction ceremony began with opening remarks from Raleigh Chapter President Bob Sigmon which was followed by an invocation from State Treasurer Sam Powell. State President George Strunk administered the SAR oath and presented Governor and Judge Cooper with their membership certificates. Member badges were presented by Bob Sigmon. Others in attendance included State Sr. Vice President Jim Becker, then Secretary and National Trustee Gary Green, State Historian and the Governor's Sponsor Joe Sam Queen and Co-Sponsor Glenn Sappie. NC Assistant Secretary for Veterans Affairs James Prosser was also in attendance. Both Governor and Judge Cooper will be members of the Raleigh Chapter.
About the Sons of the American Revolution
The SAR is a patriotic, historical, and educational non-profit corporation, United States 501(c)3, that seeks to maintain and extend the institutions of American freedom, an appreciation for true patriotism, a respect for our national symbols, the value of American citizenship, and the unifying force of e pluribus unum.
The SAR consists of 50 state societies with more than 500 local chapters, several international societies, and over 34,000 members. The North Carolina Society has 1,144 members and 28 chapters. The SAR is dedicated to assisting our members, schools, teachers and the general public in their efforts to sustain and preserve our history and constitutional principles.