Chaloner MS Student Wins NC SAR Brochure Contest
Sierra Lynn Gibbs, an 8th grade student at Chaloner Middle School in Roanoke Rapids, was the winner of the North Carolina Sons of the American Revolution Middle School Americanism Brochure Contest.  This contest challenges the student to design a brochure supporting one of the five founding documents: the Articles of Confederation, the Declaration of Independence, the Constitution, the Federalist Papers or the Bill of Rights. The topic of her brochure was the Declaration of independence. Ms. Gibb's entry now advances to the national competition to be conducted during the SAR's National Congress in Knoxville TN, July 7th-13th.
In recognition of her work, the North Carolina SAR has awarded Sierra with a check for $250.00. Her Social Studies teacher, Mr. James Rook, received a check for $100.00.  The awards were made on behalf of the NC SAR by Ken Wilson, President of the Halifax Resolves Chapter.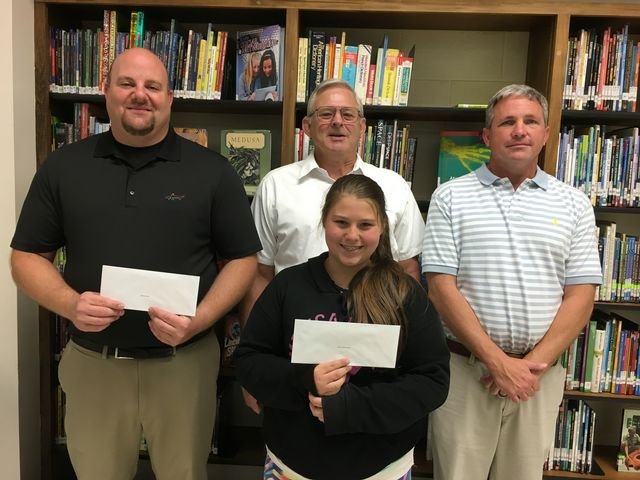 front – Sierra Lynn Gibbs. back row – Mr. James Rook, Social Studies teacher; Mr. Ken Wilson, Halifax Resolves Chapter President;  Mr. Jeffery White, Chaloner Middle School Principal