President's Piece February 2017
February was a blur for me!  I have travelled across the state several times and participated in multiple chapter meetings.  Reconciliation has been completed by State Secretary Jim Becker and all chapter secretaries/treasurers.  We completed the year with 1033 active members.  That is an increase of 56 from last year.
My first stop was at Oak Ridge Military Academy just west of Greensboro.  Nathanael Greene chapter president Chip Cook and Treasurer Alex Wilson escorted me to their alma mater and presented JROTC medals to two deserving cadets plus a flag certificate to the Color Guard commander for taking care of our national colors every day.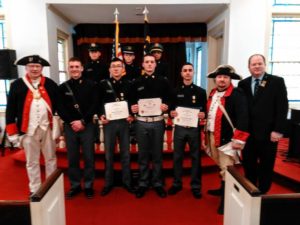 During the next week the Lower Cape Fear chapter, led by past president, Bill Holt, recognized several residents of the Plantation Village in Wilmington.  Amanda Hammons was presented with a medal for Heroism for her unselfish rescue of a woman caught in a high water following Hurricane Matthew.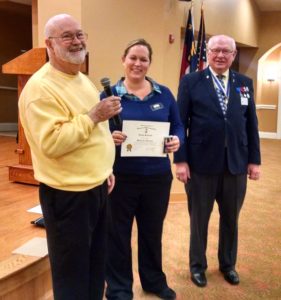 We also recognized many members of the village for their participation in color guard activities within the community with Certificates of Appreciation and we presented two Bronze Good Citizenship medals to other members who brought significant aid to members of the Plantation Village community.
I travelled to Washington, GA to a grave marking and celebration of a North Carolina born hero of the Battle of Kettle Creek, Elijah Clarke.  Dual Member Charlie Newcomer was the host for the grave marking.  Sam Powell also made his annual pilgrimage to the site of his ancestors' battle to bring greetings from the SAR Foundation and the Alamance Battleground Chapter.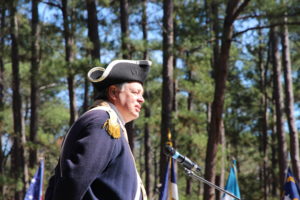 During Friday evening, Sam and I attended the annual meeting of the Kettle Creek Battleground Association and comprised 50% of the color guard for the evening.  The next morning we travelled to Washington Square and supported the Georgia Color Guard in marching the square.  After a good lunch, we proceeded to the site of the fight at Kettle Creek.  Numerous graves were marked by a campaign to recognize the fallen at the battle.  The technique of using cadaver dogs to identify possible graves followed by employing ground penetrating radar was considered "undoable" for 240-year old graves; however, the results were exceptional.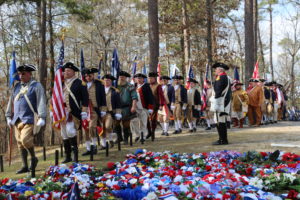 Color Guard at Kettle Creek
The next weekend saw a great turnout of NC SAR Color Guard members at the Crossing of the Dan in South Boston, VA.  We were led to the Crossing location by MG Nathanael Greene, portrayed by compatriot Dan McMichael from Georgia.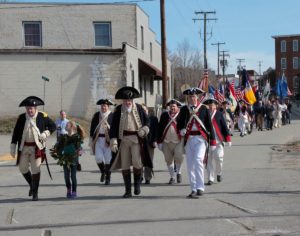 Then things really heated up.  I participated in a chapter meeting with the Alamance Battleground chapter on Tuesday and joined with West Alamance High School NJROTC instructors in extolling the value of JROTC to our communities and nation.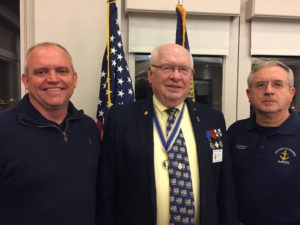 Commander Greg Erickson and Master Chief Dirk Butler presented the extensive activities of the NJROTC and showed that Building Better Citizens for America was, indeed, their primary mission.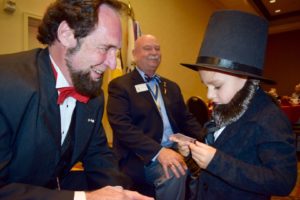 I travelled back home to pick up my bride, Julianne, and we travelled to Charlotte to attend an evening with President Abraham Lincoln.  As a part of the festivities, PG J. Michael Tomme and a frequent visitor to SAR events, Landon, were included in pictures prior to the in character presentation of our 16th president, Abraham Lincoln, by Dennis Boggs.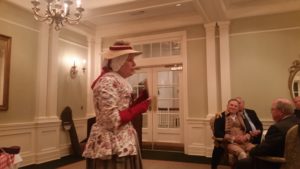 Then it was back to Wilmington for a celebration of George Washington's birthday with the Lower Cape Fear Chapter.  The guest speakers for the evening were PG Mike and Cilla Leed Tomme as they returned to their SAR roots in presenting their "Travelling Trunk" of Revolutionary War artifacts. Cilla's description of the common activities of "Colonial Living" of the colonial woman was exceptional.  PG Lindsey Brock and his wife, Billie, also were present and when you see PG Brock again, ask him about his housewife.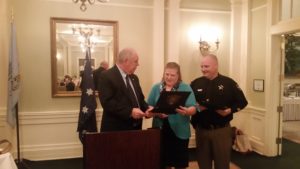 At that meeting, the Lower Cape Fear chapter chaplain, Jim Hash, recognized Deputy Christopher Powell of the Brunswick County Sheriff's department for his heroism in rescuing three teenagers from a car that had veered off the road and into a ditch swollen by a recent rain.  His wife, Angela, was also presented a Certificate of Appreciation for her efforts to comfort the victims once they were safely out of harm's way.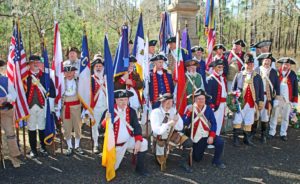 The week finished with a great turnout in Currie, NC at the 241st Anniversary of the Battle of Moore's Creek; PG Mike Tomme was the featured speaker and he presented a history of the event as well as personalizing the battle by remembering his patriot ancestors, Shadrack and John Vining who participated in the battle.
Announcements
Immediate Past President Tim Berly is developing the proposed committee members for the 2017-2018 North Carolina SAR leadership.  If you get a call from Tim to serve, please do not ignore the call; we NEED your service.  If you are not currently serving and are interested in supporting the NC SAR, please offer your service. 
Please review details for other coming events on our state calendar.  https://ncssar.org/events/
Spring Leadership Meeting, Louisville, NC – 2-4 Mar 17
NC Social Studies Conference, Greensboro, NC 2-3 Mar 17
Battle of Guilford Courthouse, Greensboro, NC – 18 Mar 17
Halifax Resolves, Halifax, NC – 12 Apr 17
Annual Meeting of the NC SAR, Greenville, NC  21-22 Apr 17
Our annual meeting will be held at the Holiday Inn in Greenville, NC starting with a President's Reception on Friday night, 21 April.  We will conclude with our banquet on Saturday evening with our guest speaker, Janet Uhlar who has written multiple books focusing on the American Revolution.  One of her biographical fiction books, "Freedom's Cost" focuses on Major General Nathanael Greene who valiantly fought with Lord Cornwallis at the Battle of Guilford Courthouse.
GARY O. GREEN, President
North Carolina Society SAR