NC SAR Annual Meeting Acceptance Speech
I accept your election as the 63rd President of the North Carolina SAR with humility and optimism.  I thank Ben Franklin for providing us with many platitudes that I am sure we can all use in our daily lives.  I thank our current state senior leadership who have indulged my questions about what, why and when as we accomplished North Carolina SAR business.  In particular, President Berly, I thank you for your outstanding leadership in this past year.  Tim, you have led by example as well as visionary preparation for each state meeting and event.  I also thank all of the former state presidents for their intuitive guidance in answering questions as I learned what it means to be a leader in the North Carolina SAR.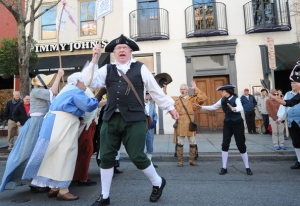 Before we get on, I believe it is necessary for you to know a little more about me.  I am a goal-driven individual.  For example, after I accepted a position on the Inspector General team for the Strategic Air Command, my wife found that I was home more often and suggested I needed a hobby to fill my time. In December 1991, I chose to look into my family genealogy.  I was fortunate enough that I had my Aunt Velma who had found her DAR routes during the nation's bi-centennial in 1976.  Today, I have over 129,000 of my closest relatives in my genealogical database.
After retirement from the US Air Force, I chose to teach AFJROTC at Laney High School in Wilmington, NC.  I learned how much the cadets enjoyed achieving their ribbons during the end-of-year ceremonies.  One of my closest allies was the DAR presenter, Ellen Money.  I advised her that I had potential to be a member of the SAR in 2001 and she gave me the proper direction in a letter.  I looked at the SAR compatriots; they listed 16 presidents, many Five-star Generals, Ambassadors, and college presidents; I looked at who was in the DAR and found the first DAR National President, Caroline Harrison, wife of President Benjamin Harrison.  I also found Rosalind Carter, Barbara Bush, Laura Bush, Nancy Reagan were members of the DAR.  I just did not see me in that league.  Then, in 2007, I found out that Bo Derek was a member.  That was when I knew I wanted to join the SAR.
I, therefore, have set goals for what I think we should do this year in the North Carolina SAR.
My first goal is to keep doing what we always do and do very well!
District Meetings
Attending/Celebrating existing National and State historic Revolutionary War events
Sponsoring Youth Programs
Supporting Partners in Patriotism with military veterans organizations
Then the question is:  "Can we do better?"  I say yes.  I have set three goals for the state society.
Retention
Communication
Military Veterans Recognition
Retention:  Let's continue the trend of increased membership that has occurred under President Berly's leadership.  Under the leadership of former state president, John Thornhill, I am asking each chapter to contact the members who have dropped in the last five years and invite them back to the SAR.  I also want to issue Dual member certificates and ensure these members feel welcome in the North Carolina Society.  Finally we need to look at our current membership for future leaders in the state society.  Today, is the first day in that quest for the next state secretary.  As you are contacted, to paraphrase John F. Kennedy:  "Ask not what your SAR can do for you; ask what you can do for the North Carolina SAR."
Communication:   I see the potential in our revised state web page.  Each chapter has the capability to update the web page with real time input for future events as well as posting news of the accomplishments at those events.  Let's do it.  I believe we need to publish inputs from at least one chapter of each district in the Old North State.  I will ask our state secretary to send e-mails to every compatriot that will include minutes of this convention as well as the Board of Managers.  I will ask for inputs from those who attend the National Congress and semi-annual leadership meetings to provide a report of their participation.  I task the State Senior Vice President to review and update the current four volumes of the State Handbook before the August Board of Managers meeting.  I request that we immediately start to distribute the Old North State newsletter to every compatriot via e-mail with the eventual goal of limiting the paper distribution to only those who do not have access to a computer.
Military Veterans Recognition:   I was listening to a John Denver tune this past week that is called:  "You say the battle is over."  Please think about what a veteran has done for us, as I read the first verse.
And you say that the battle is over, and you say that the war is all done.
Go tell it to those with the wind in their nose who run from the sound of the gun.
And write it on the sides of the great whaling-ships,
or on ice floes where conscience is tossed.
With the wild in their eyes, it is they who must die,
and it's we who must measure the loss.
On Veterans' Day, 2015, I sent a heartfelt thanks to each member in our state society for their military service to our country.  We had about thirty members who have been identified by the national leadership; however, I received about sixty replies which said in essence, "What about me?"  We have many Society members who have never been recognized for their military service.  I am tasking the chair of the Veterans Services/Stark Submission Committee, Gene Funderburk, to assist chapters in recognizing their veterans using the on-line form. We should include all of our society veterans in the National Veterans Corps.
I also believe our chapters can support our veterans in their respective communities and document the support using the USS Stark Memorial Report that was initiated in 1989.  I have asked the Americanism Chair to include a Tab in the state Americanism Report that includes a place to document participation in Stark Memorial activities.  This is only a log; chapters and the State Society must transfer the information to the National form and then forward it to the Veterans Service Committee and to the National USS Stark Memorial Committee.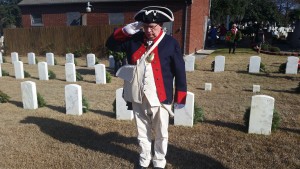 My last quest to recognize veterans includes increasing our involvement in Wreaths Across America.  In the state of North Carolina there are many cemeteries which hold formal ceremonies recognizing veterans each December; this year the event is on 17 December 2016.  I ask each chapter to find the event closest to them and participate in Color Guard regalia if possible.
I also have three goals for our five districts.
First I ask each district Vice President to again establish a meeting of all chapters and their members to review state support of the chapters, concerns from the chapter membership, assistance in establishing a chapter web master, registrar involvement in the national membership program and ensure understanding of the state reconciliation form.
Second, I ask each district VP to attend a meeting of each of his chapters during this year and provide feedback in the form of a submission to the Old North State newsletter.
Third, I also ask each District VP to assist in chapter reporting of Americanism, Reconciliation and this year the USS Stark Memorial Award.
I have one new goal for each chapter.  I ask chapters to recognize Compatriots in grave markings.  In particular, I would like to recognize former SAR state presidents who are buried in a community in their chapter area.
Finally, I have received good guidance in my military career; however, the best guidance in presenting a speech that I received is summed up in the phrase.  "Be good; be brief; be gone."  Thank you.