The Joseph S. Rumbaugh Historical Oration Contest
We are pleased to be an active supporter of this national program for high school students who choose to develop their oratory skills and participate in this national program of SAR.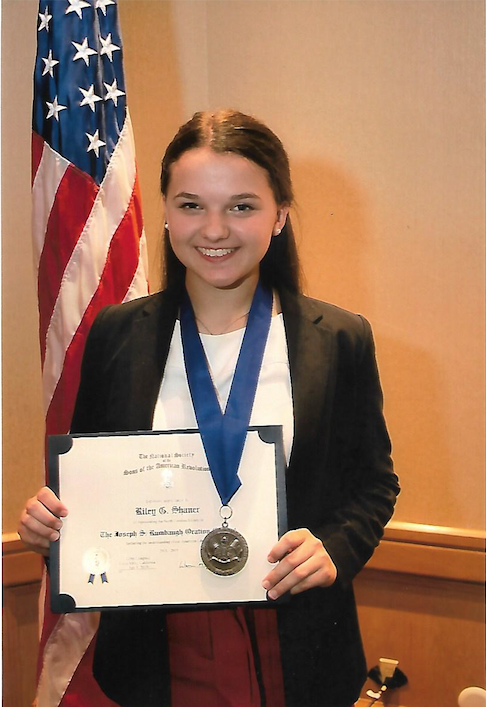 (Above, Riley Shaner is the North Carolina SAR
2019 Rumbaugh Oration Award Recipient & 2019 National Winner)
Contest Rules & Entry Form
The Joseph S. Rumbaugh Historical Oration Contest is open to all students attending home schools, public, parochial, or private high schools in North Carolina who are in their freshman, sophomore, junior or senior year of study during the contest year (Grades 9 – 12).
The rules and prizes are the same as those described on the National Society website under Youth and Educational Outreach Programs found here on the SAR website.
The oration must be original of not less than five minutes or more than six minutes. The subject shall deal with an event, personality, or document pertaining to the Revolutionary War and show a relationship to America today. The memorized and delivered oration must be essentially the same as a submitted manuscript. Notes and props (including military uniforms) may not be used in the presentation.
North Carolina Information
Entries to the contest must be submitted to the North Carolina Chairman. Interested chapters and individuals are invited to contact our chairman below:

Lowell Hoffman
12910 Morehead
Chapel Hill, NC 27517
(919) 656-9955

Guideline information:
Local Chapters may sponsor a Rumbaugh Oratory Competition to be completed by March 17, 2023.
A State Contest will be held in March
The State Winner will present their Oration at NC State Congress held in early April
The State Winner will receive a Medal, $750 in Award money plus financial support to attend the National Congress
National Congress is held in early July