https://ncssar.org/event/battle-ramsours-mill-june-20-2020/
The Catawba Valley Chapter and
The North Carolina SAR
Invite You to Attend the
240th Commemoration of the
Battle of Ramsour's Mill
20 June 2020
11:00am
via Zoom
Join us for an incredibly special, hallmark event as we connect the history of the Battle of Ramsour's Mill through the modern technology of Zoom conferencing in the very first SAR National Virtual Battle Commemoration!
SAR President General John T. Manning will join us "live" during the commemoration.
Many SAR, DAR and CAR dignitaries will stream in "live" from around the country to bring special greetings!
We'll take you "live" to the Ramsour's Mill Battleground
Color Guard Members from around the Country will be in attendance via Zoom
SAR, DAR, CAR and other Patriotic Organizations will present Virtual Wreaths
The Zoom event will be streaming "live" to Facebook so anybody on Facebook across the globe can watch
Be a part of history as hundreds of people will join to celebrate America while we commemorate the Patriots who fought and died in the Battle of Ramsour's Mill.
If you are going to participate in either the color guard or wreath ceremony, you must sign in by June 15. This is especially important for Virtual Planning.
All SAR, DAR, CAR and other Lineage Society will be on "Zoom". We will stream Facebook Live for Public Participation.
First, You will need to download the free version of Zoom to participate! You can do this anytime.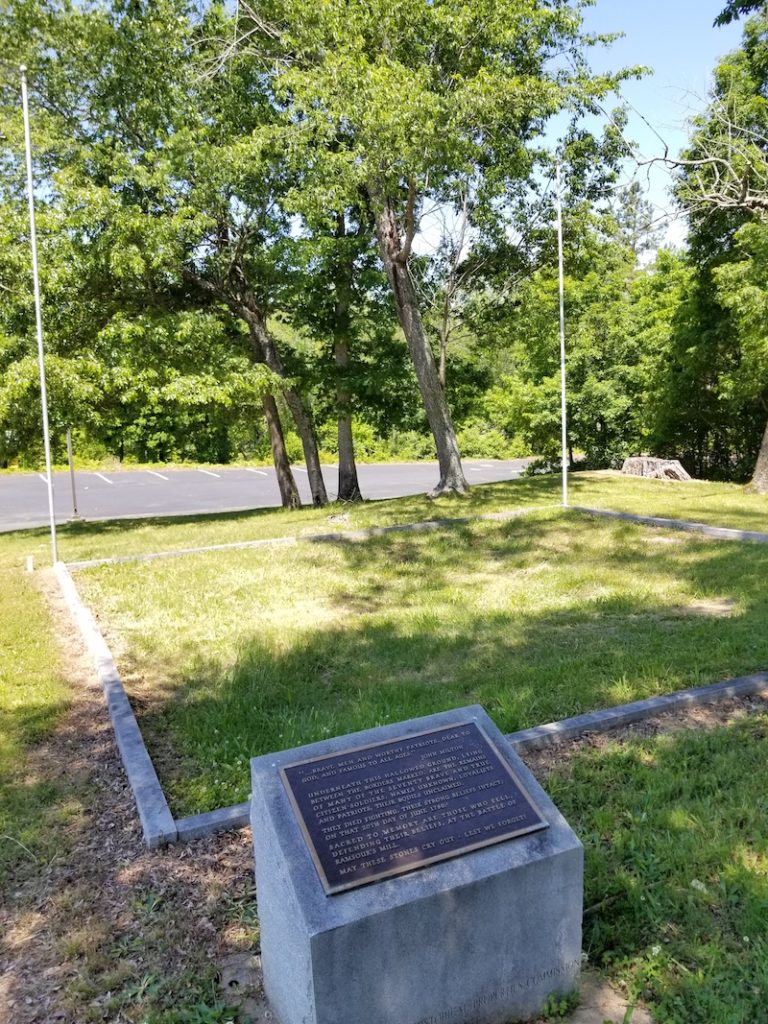 How to RSVP for Color Guard, Wreath Presentations
or Just Attend the Event
You will need to sign-up to participate in the Color Guard, to present a wreath or to Attend for Points, plus you will need to dress in your Revolutionary War uniform or Militia attire. After you sign up, you will be contacted with instructions on how to log in. You will be given your own Muster Roll Number so we can be sure you are not missed as your are called to present honors and/or to present your Wreath. You will also receive instructions by email. Practice sessions are planned.
**Counting of Color Guard, Wreath Presentations and Americanism Points**
Right now we do not know how the points for Color Guard or Americanism will be counted. However, the matter will be taken up during the Fall Leadership and the chairmen of the respective committees have assured us that they believe that these points should be counted and will be counted.
Zoom Link for June 20, 2020 Event
This program is hosted by the Catawba Valley Chapter NC SAR.
Attendees can use the Zoom link above to join the video and audio portion of the program.
Alternatively, you can dial in to 1-253-215-8782 with the meeting ID # 849 6257 5295 to hear just the audio portion of the program.
The program will start at 11:00am EDT, but in order to make sure all attendees are logged in, we will have the log-in open at 10:00am EDT.
For event questions, please contact Ben Setser at or Jack Bowman at .
For Technical Questions please reach out to Bryant Trombly at btromblysar@gmail.