Blue Ridge SAR Color Guard Honors Heroes of Battle of Kings Mountain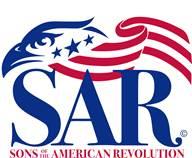 First North Carolina Chapter of the Sons of the American Revolution. Chartered 21 April 1928 in Asheville, North Carolina, and later became the Blue Ridge Chapter.
Four members of the Blue Ridge Chapter Sons of the American Revolution Color Guard joined other compatriots and history buffs at the 242nd anniversary of the monumental battle of Kings Mountain near Kings Mountain, North Carolina. A brilliant sunny sky illuminated the dozens of Revolutionary flags while participants from as far away as Texas, Kentucky, and Connecticut paid honors to the Patriots who fought on the site on October 7, 1780.
The battle, which many deem, the "turning point of the War for American Independence", was fought almost entirely by Whig and Tory militias from the Carolinas. Major Patrick Ferguson, the commander of the King's forces was fatally wounded in the battle. No Continental forces were involved in the Whig militia that was often referred to as the "Over the Mountain Men".
Twenty-eight color guardsmen were featured in the honors at the Kings Mountain Battle Monument. Of those, four were from the Blue Ridge Chapter namely, John Boyd, Craig Issacson, Garry Linton, and Lance Dickinson. Also in attendance were State Officers from North Carolina, South Carolina, and Georgia as well as national SAR officers from Lousiville, Kentucky.
   John Boyd in the center                 Lance Dickinson, Craig Issacson & Garry Linton
It is easy to see that the Blue Ridge Chapter is an active, energetic, busy chapter that is always looking for new members to help us reach our challenging goals for the recognition of the sacrifices our Patriots made for us to enjoy the freedoms we have today.