NCSSAR Blue Ridge Chapter Meeting April 9, 2022

Blue Ridge Chapter

 Became first North Carolina Chapter of the Sons of the American Revolution. Chartered  21 April 1928 in Asheville, North Carolina, and later became the  Blue Ridge Chapter.   

Committee reports from Secretary Paul Grass, Treasurer Ron Hillabrand, Registrar Mike Burkhart, Color Guard Larry Chapman, Americanism Flag Committee Tom Long, Education Committee Garry Linton, Membership Committee Brett Callaway and Awards Committee Lance Dickinson were discussed. Our first Genealogy Workshop was a success with many thanks to organizer Mike Burkhart and guest speaker David Gammon (Former NCSSAR Genealogist). Our Color Guard will present colors for the National Anthem at the May 29th Asheville Tourists game which is on Memorial Day weekend. Our Color Guard will also be at the Memorial Day Parade at 9 a.m., May 30th, in Brevard, North Carolina. We will also be onhand for the 4th of July parade and the Veterans History Museum of the Carolinas in Brevard, North Carolina. The Color Guard will also be present for the Sergeant Charles Lewis Grave Marking  that will occur onMay 21, at 11:00 a.m. at the Green Hill Communtiy Center near Rutherfordton. Anyone planning on attending, please RSVP to Terrell Lewis, wtlsue@bellsouth.net. President Issacson, assisted by Vice President Greene and Membership Chairman Brett Callaway inducted two new members into the Blue Ridge Chapter; Compatriot Clarence Rogers and Compatriot Bill Eakins. Our membership now stands at 76 of which 73 are primary and 3 are dual.

Awards Committee Lance Dickinson and  President Issacson presented Mike Burkhart with the prestigious award honoring the 50th Anniversary of Mike's membership in the SAR.
Flag Committee Chairman Tom Long And President Craig Issacson presented a Flag Recognition Certificate to Gary Bowen, of Bowen Optical in Hendersonville for his proper display of the American flag.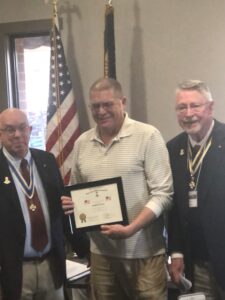 Roland Bissonette, a National Parks Ranger from the Cowpens National Battlefield gave our members a presentation that would be very hard to forget. He showed us how Daniel Morgan's plan to defeat the advances of Banastre Tarleton's was perfect. Seven hundred (700) British soldiers were killed or captured in about 20 minutes.

It is easy to see that the Blue Ridge Chapter is an active, energetic, busy chapter that is always looking for new members to help us reach our challenging goals for the recognition of the sacrifices our Patriots made for us to make us a free nation.