George Washington's Birthday Celebration
The Lower Cape Fear Chapter met to celebrate George Washington's birthday, recognize outstanding efforts by community members, chapter members and install officers.  
President Charles A. Lewis opened the celebration by describing the reason we celebrate George Washington's birthday.  After introductions, the members and guests were invited to partake in a buffet dinner provided by the Cape Fear Country Club of Wilmington.
Community Recognition
Officer Kirby Kealon, Sr was recognized for his involvement in the Wilmington community with the Law Enforcement Medal. After a tragic domestic violence incident left a child as a de facto orphan, Officer Keaton organized a drive to ensure the child was remembered at Christmas time.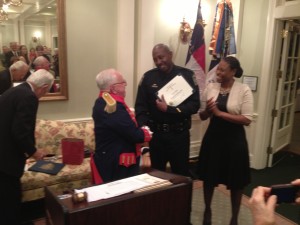 Eagle Scout Robert Penna-Welch was recognized for his superb leadership in the community; he received a $250 scholarship for his efforts.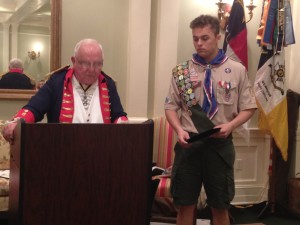 Eagle Scout Samuel Marsicano was recognized as the chapter Eagle Scout Essay winner; he also received a $250 scholarship.
Carol Weiss, Stamp Defiance Chapter, DAR was recognized as the guest speaker who described the events leading to the resignation of the Stamp Master for the area in 1765.  She described the involvement of the leaders in the community at the time and also recognized several chapter members who participated in the reenactment of the resignation in the fall of 2015 at the location of the former courthouse.  She was awarded the SAR Medal of Appreciation.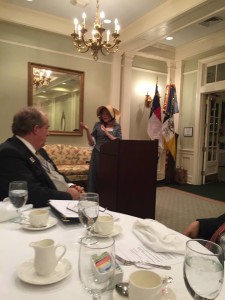 Chapter Member recognition
Multiple members of the chapter were recognized for their continual efforts to support the chapter and community.  Chapter Vice President, C. Gene Funderburk achieved the 2016 Bronze Distinguished Service Medal for his efforts as the chapter color guard commander, the USS Stark Memorial Award input and for supporting the state color guard in multiple events.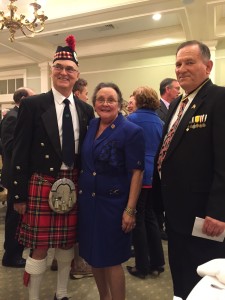 Inductions
North Carolina Society President, Tim Berly, inducted recently elected President C. Gene Funderburk, Vice President John E. Stewart and confirmed other officer positions for the chapter.