Pardee Hospital Recognized For American Flag Etiquette By Blue Ridge SAR
First North Carolina Chapter of the Sons of the American Revolution. Chartered 21 April 1928 in Asheville, North Carolina, and later became the Blue Ridge Chapter.
After months of renovation to the west entry of the Pardee Hospital in Hendersonville, North Carolina, visitors can stroll up to the newly modernized plaza walkway to the front entry. On that walk, they will pass the American flag proudly displayed as the focal point of the entrance. At night, a spotlight separates the flag from the surrounding darkness; the nation's banner is a constant reminder of the sacrifices millions have made to build the greatest nation the world has ever known.
This display did not escape the attention of the Flag Awards Committee of the Blue Ridge Chapter of the National Society Sons of the  American Revolution (SAR). On the afternoon of the 13th of September, Flag Committee Chairman Tom Long and Chapter President Craig Issacson met with Michelle Reynolds, the Administrative Director of Engineering Services at Pardee Hospital, to present the American Flag Recognition Award to the institution. Ms. Reynolds will share the award with the engineering staff who is responsible for presenting and maintaining the American flag on a daily basis.
As America's 250th Anniversary approaches (2026), the SAR is expending more effort to draw attention to the display and etiquette of our national ensign. It is anticipated that this presentation is one of many commercial, institutional, and private entities to win the award in Western North Carolina.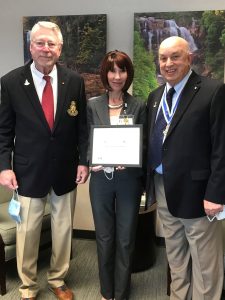 It is easy to see that the Blue Ridge Chapter is an active, energetic, busy chapter that is always looking for new members to help us reach our challenging goals for the recognition of the sacrifices our Patriots made for us to enjoy the freedoms we have today.